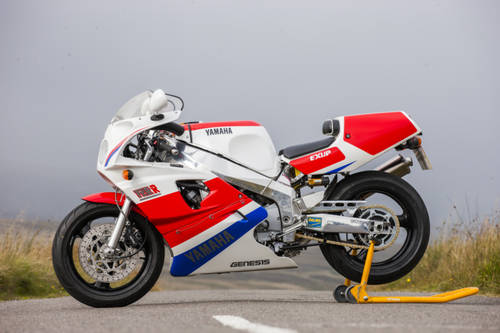 Today Dennis from Denmark forwards us this modern sportbike legend, the the Yamaha OW01 homogolation special. Produced in limited numbers it featured a very peaky 5 valve 750cc engine that breathed through huge flat-slide carbs and was mated to a close ratio gearbox. Ohlins rear shock and fully adjustable suspension up front made it one of the best on the track. Power output stock was a claimed 119bhp and it weighed just over 400lbs.
This particular example was recently treated to a restoration and featured in the November issue of Practical Sportbikes. The seller goes on to describe a story associated with this particular bike and that it may have originally been given to Carl Fogarty by Yamaha. While the seller notes he has not been able to credibly verify this information, it's seems plausible. What I do know is that offered for £11,995 (~$20k USD), this sounds like a great buy even if shipping is required.
dc
from the seller:
1989 Yamaha FZR750R OW01 following a 2 year fastidious detailed restoration which is fully detailed in Practical Sportsbikes' magazine article and ride test of issue 37, November 2013. One of an original run of only 500 bikes produced worldwide to homologate it for the new World Superbikes series, this example is really stunning.

The bike has had an extensive and detailed restoration over the past two years costing thousands of pounds and taking many hundreds of hours. It's now complete and has a current MoT for UK riding, long road tax and comes with the elusive genuine toolkit and owners manual.

The work done has replaced every seal, bush, bearing and consumable on the chassis and those requiring replacement in the engine. This includes chain, sprockets, all caliper pistons and seals, wheel bearings, brake lines, Ohlins shock rebuild, hard chroming and fork rebuilds, brake disks, you name it, it's been done and the bike is immaculate as can be seen in the PS magazine article and the photos here.

In addition, when I bought the bike I was told it has history relating to Carl Fogarty although as I haven't yet been able to substantiate these claims, treat the information as "interesting" for the time being. Having said that there are some changes on the bike from standard that are very intriguing and may lend more weight to the story of brief ownership by Foggy.

The story has it that before the 1992 TT, Yamaha gave Fogarty a road based OW01 to familiarise himself with. Carl at that stage of his career would sell everything a sponsor gave to him, and so the OW01 was alleged to have been sold on to a member of his 1992 pit crew.