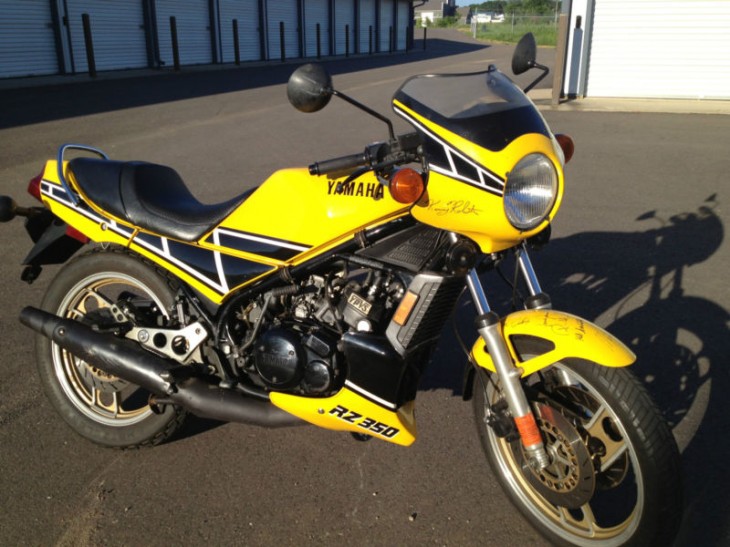 Up for grabs is one really awesome front fender signed by a number of famous racers and suitable for framing on any wall of your house, garage, man cave or hangar. That really cool fender is attached to a 1984 Yamaha RZ350 that unfortunately cannot live up to the promise of the signage up front. All in all it is a neat package, but if you have your hopes set on a museum RZ, best to look elsewhere. The real question is whether or not a sharpie on paint brings any more cash at auction.
We have seen very pristine examples of these classic RZs. This bike looks to be an honest 12k+ mile example, complete with weathered decals, some oxidation, a faded dash and the normal knocks and dings that seem to happen to bikes of this age. The seller notes a top-end rebuild and some interesting changes, but basic components remain intact (including the rare and heavy catalytic converters).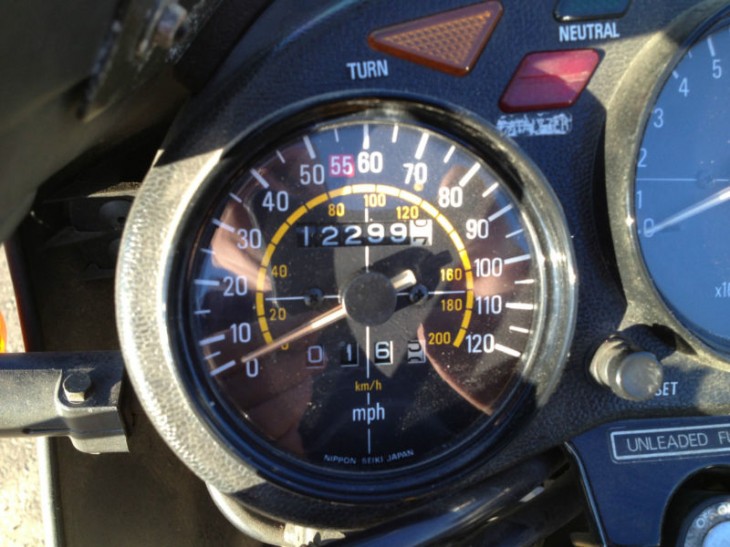 From the seller:
What's up for bid is what I think is a very unique 1984 Yamaha RZ350 two-stroke street bike, Kenny Roberts Special. They only made these for two model years in the USA, 1984 and 1985.

But what sets this bike apart from the others is I took the from fender with me to the Laguna Seca MotoGP races in 2005, which was Yamaha's 50th anniversary. Yamaha had on hand many of their most famous factory racers. I waited in line for 2 hours each day to get the following racers to sign this RZ350 front fender.

In no particular order:
1. Giacomo Agostini
2. Eddie Lawson
3. Wayne Rainey
4. Randy Mamola
5. Kel Carruthers
6. Steve Baker
7. Jamie James
8. Rich Oliver
9. Thomas Stevens
10. Doug Henry

The bike itself it very stock with only some upgrades to make it more reliable and to replace failed parts (Yamaha dealer installed):
1. Upgraded main fuse box to use automotive spade type fuses which has increased electrical reliability to perfection
2. New stator from RM Stator of Quebec, Canada
3. Rebuilt (3) calipers and added stainless steel lines coated with black plastic to look stock
4. New power valve and motor
5. New top end when I bought it with only 2k miles on the rebuild
6. Oil injection works perfectly and ONLY use Amsoil synthetic oils
7. Radiator and coolant recently flushed
8. Perfect Corbin seat (comfy)

Rides, handles and stops very well. Only 351 pounds with 50 HP. Gathers a crowd wherever it's parked. Good conversation piece and very reliable.
Don't miss out on this beauty…I think it won't last long.
This auction confuses me a bit. This is not a museum quality bike, despite the fact that is has the rare, original pipes – there are too many non-standard changes and damage for that. This is also not a hot-rodded bike – we have seen nicely tricked out RZs that go for a good price due to sano paintwork, pipes and upgraded gear. The signed front fender is a neat bit, but it would still be neat off the bike. In the end, this is just an average RZ – a very desired and rare bike to be sure – but not a particularly special example of the genre.
This auction is on right now and bidders are slowly waking up. In the time it took to write this article, the bike went from zero bids at the $100 opening ask to over $2,000. The BIN is set at $5,975 – which is a bit high for an RZ in this condition, but not morbidly so. If you get lucky on this auction, perhaps you can snag an extra fender from your local salvage yard and hang the signed beauty on your wall as a conversation piece. Click here to check out the signed RZ350. Good luck!
MI