Location: San Jose, CA   Mileage: 29,360   Price: Auction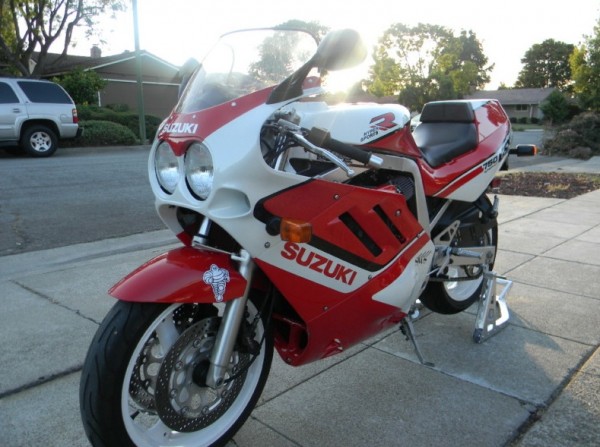 Oh man, here's a real beauty up for sale in California. Being a huge GSX-R fan, this bike hits all the right marks. The "Slingshot" was an attempt by Suzuki to get some more power out of the engine by getting it a few more revs. Didn't really do the trick but was still a killer bike then, just as it is today.
From the seller-
Here's a chance to get one of the cleanest 88 GSXR's you will ever find. This bike took three years to complete. Finding the NOS oem body panels took two years of world wide searching as most of the panels aren't available anymore. All panels excluding the tank and upper are brand new old stock parts. Has factory original windscreen, turn signals and mirrors. The bike started out as a very nice 28K mile original bike. The bike was taken apart, cleaned, detail painted and reassembled with all factory correct hardware and to factory specs. All mechanicals such as brakes, suspension, carbs, etc were gone through. Mods are minimal and kept period correct such as a Fox Shock (rebuilt and has new spring). Yoshimura exhaust system ( media blasted and high heat painted). Factory 36mm carbs are Stage III jetted with new K&N Filters. Bike runs great. Brand new RK 530 chain with new front rear sprockets. Seat and bump pad are mint, look brand new. Brand new rear tire hugger and rear uncut fender. Michelin Pilot Power tires are in great shape. Only ridden 500 miles since restoration complete. Only a few small flaws in entire bike. See pics: One small chip in upper under mirror ( very hard to notice) and scratch in frame by rear set and one tiny chip in paint in front side of tank which can be touched up. That's about it. This bike shows excellent, ride and enjoy or stash it away as an investment. Please contact me if you have any questions. I'm selling this bike for a friend but I helped build it so I know every detail. Will assist buyer with shipping but buyer pays all costs. Pickup preferred.
Pics-
This GSX-R is described as completely restored to factory specs with NOS bodywork in a three year effort. It certainly looks great. The mileage is considerable but the seller says everything has been gone through and the bike runs well. Photos highlight a few small cosmetic issues. Otherwise, this thing looks like a nice, clean example of one hell of a sportbike.
If you're looking for a great early GSX-R, or just a great early sportbike, this could be an outstanding opportunity for you. To place your bid, go to the auction!
-RN