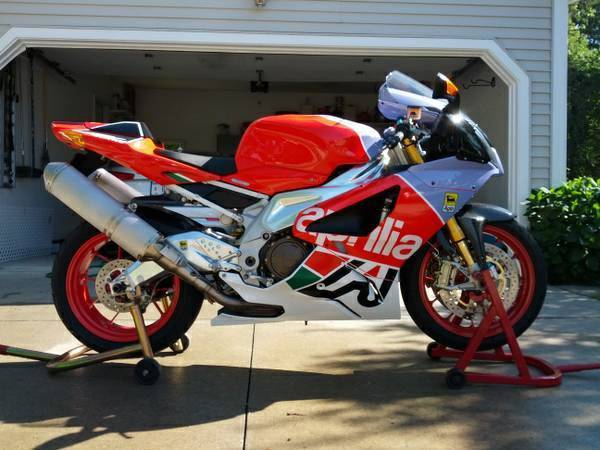 It will definetly catch your eye with the pastel purple and the 80's/90's Aprilia 'A' logo.  Aprilia's tribute to endurance racing are rare but relatively inexpensive in the world of limtied production bikes.  Of course they are paint only limiteds so it is all standard RSV1000R underneath. 
 The info:
2008 Aprilia RSV1000R for sale in Excellent condition. The bike has been very well maintained and stored in heated garage year round. I am the second owner. 9400 miles and has a new tire on the back with about 500 miles on it. Bike is ready to ride and doesn't need a thing. Fresh oil and filter change done. This collectable bike is all stock except the genuine Aprilia carbon fiber front fender, some pictures taken with stock fender also.  Clear title. Fly into Cleveland and ride it home.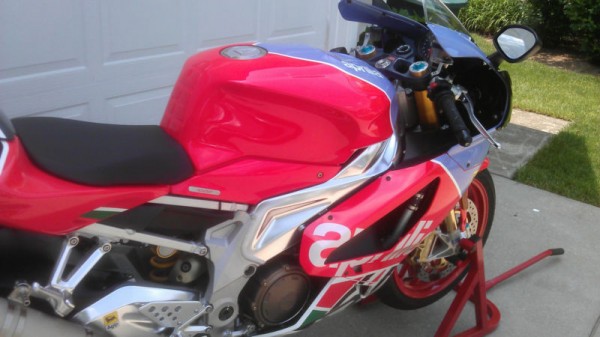 Nobody is better than Aprilia at putting graphics on a bike and then cutting large holes in them.
Maybe not the best for the track or the wallet but I love the asthetics of the dual exhaust.
They tend to get snapped up relatively quickly and this one shouldn't be any different.  The seller is asking $7,600 BIN and is also open to offers.  For perspective, I've seen them listed from $12,000 (practially no miles) to $8,500 (a few thousand).
Ian