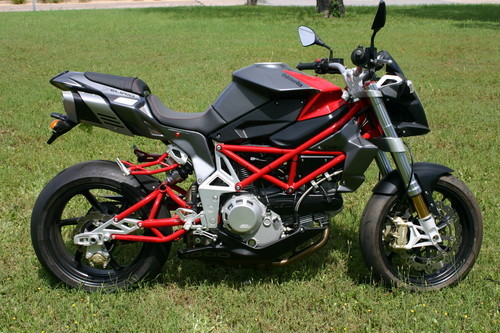 Here's another guest post from Marty. Enjoy! -dc
Bimota's seem to pop up on RSBFS on a fairly regular basis, ranging from the SB6 to the occasional DB1 or DBY. But this Bimota is a model I personally had never heard about and so I decided to do a bit of digging.
Bimota states that in 2007 the Delirio was the most practical and lowest priced Bimota. (if you can call $30,000 a low price). At first glance it seems like a bit of a mismatch between price and product. The bike is powered by a 90 horsepower air-cooled Ducati V-Twin engine, has a trellis frame a la Monster and the classic Laverda 650 series, and conventional forks and shock. So on the surface the price tag of 15k USD looks pretty outrageous, especially when you can get a Ducati Monster for $10,500. But prices are right in line with KBB values, and you are getting a bike which the seller lists as one of only 250 in the US, having only 600 original miles.
2007 Bimota Delirio For Sale on eBay
From the seller:
2007 BIMOTA DB6 DELIRIO. RARE MODEL, ONE OF ONLY 250 IN U.S. Grey/red, 1000 cc ducati desmo v-twin. 600 Original miles. Rarely used, perfect condition. Good tires, New battery, all maintenance up to date and completed by Local Ducati dealer. Very distinct sound from aftermarket ZARD carbon fibre exhaust cans. Brakes by BREMBO. Front 30mm forks from Marzocci. Rear suspension by Extremetech engineering. This bike is for the conisseur of fine italian bikes. You will be the only one riding a BIMOTA at your local bike rally or show.

This bike draws crowds and attention and will keep the owner busy answering questions and making new friends. More distinct than a DUCATI MONSTER or STREETFIGHTER. This bike is handmade in Rimini, Italy by ONE CRAFTSMAN in a workshop-not a production line type factory. Bimota only produce 500-1000 bikes per year. The angular shape of all the components make these bikes some of the most beautiful pieces of art on the road.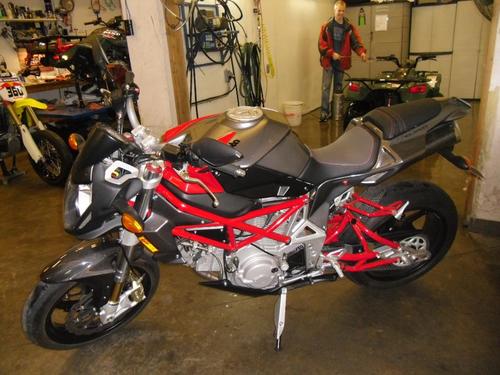 Anyone who can shed more light on these, maybe post to the comment section?
-Marty