What Could Have Been?  Modded 1987 Suzuki RG500
Is there a piece of paper tucked away in drawer at Suzuki HQ that looks like this bike?  If production had continued on the RG500 past 1987 would we have seen something similar to this?  In my opinion  the RGV250 (VJ22)  front end and bodywork (might be VJ21)  nicely modernize the RG's silloute.  The braced swing arm gives the back end a more serious look.  Over all I really like what the owner has done with the bike.  It looks updated yet it has kept the overall qualities of the bike.
The engine certainly hasn't been left alone.
From the seller:
The engine is a 570 cc big bore Stage III posting.  It is completely rebuilt with all new bearings and seals, crankshafts, straight cut primary gears, full nova gear box, a shift support plate, adjustable ignition pick up, standard C.D.I., 31.5 mm offset bored carborators with high flow valves (fitted), and an adjustable exhaust port (timing).  All motor work was completed by Sam Palmer of B.D.K Engineering in Norfolk, United Kingdom.  The exhaust has a hand made set of chambers with carbon silencers, by Mark Dent. He is the best in th business. 
It sure looks and sounds like the engine has worked over correctly.  The owner is claiming a healthy 128HP on pump gas.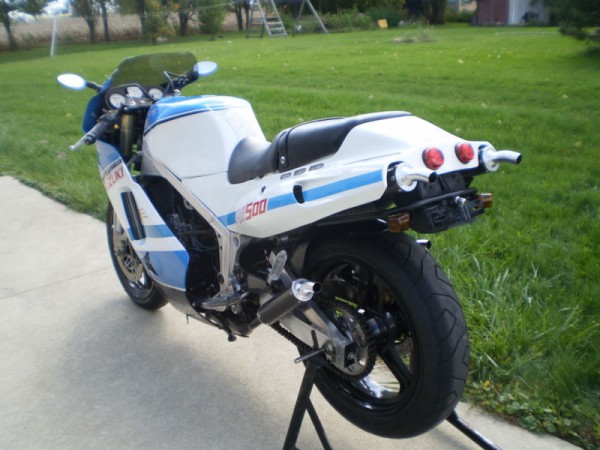 Looks like a pretty clean job on the cutting and chopping out back.  No mention by the seller about a title and if he still has any of the stock parts.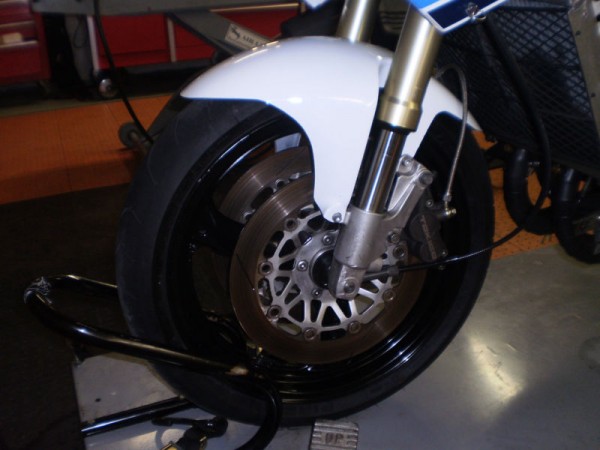 There is your RGV front end.  There are plenty of parts available for this set up if you want to tinker even more.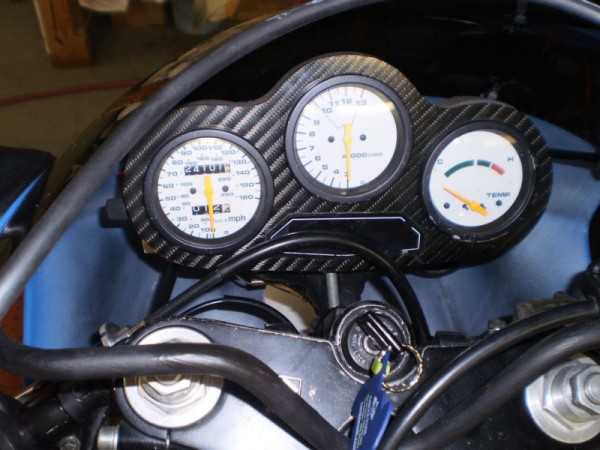 The mileage wrapped in a little carbon fiber.  Nice touch.
The Mark Dent built chambers.  Everything looks spotless.  The seller says the bike only has 2,000 on it since reassembly.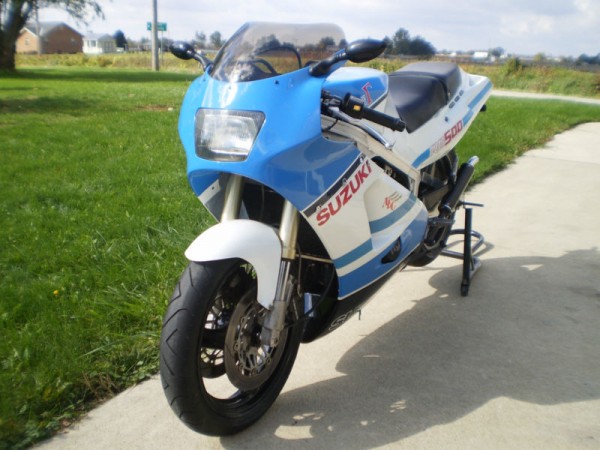 One of the best looking modded RG500's around  in my book.  I love the updated lines.
Bidding is quite active and I would imagine with the well done body and engine mods it will fetch a decent price.  Get in on the auction here.
Ian