Stumped Again:  1990 Moto Morini Dart 400
I knew from the second I saw it, I had never seen one before or knew it existed for that matter.  Moto Morini isn't exactly a household name and this bike comes from the Cagiva ownership era from the late eighties to early nineties.  By the way, if you thought Moto Morini was long dead, think again.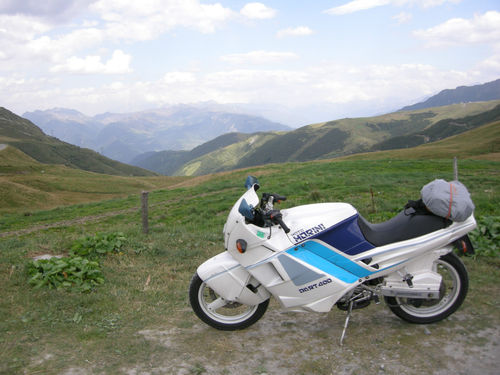 How about that for some picturesque scenery?  That isn't Indiana, this is a French bike (Chamonix, France no less! You have to ski to be impressed) listed on Ebay UK. So what the heck is a Moto Morini Dart?  It apparently was a hastily produced model to fill a middle weight hole in the Cagiva conglomerate line up.  It shares a frame and suspension with a Cagiva Frecia 125 (think early Mito).  The engine is an air cooled Moto Morini V twin.  Earlier models were 350cc.
As cool as Cagiva's grand prix bikes were I've never felt the machines they produced ranked very high on build quality.  The poor Dart has stress cracks in quite a few areas.
From the seller:
Only 900 of these bikes were made of which only 200 had the 400cc motor, so it is indeed very rare. This model is in France where only 17 were ever imported, but delivery can be arranged.

The bike has a few nicks and chips which you would expect for a bike of this age. I can send more photos of the minor flaws and also some much better quality images of the whole bike (I have to dig through an old computer to find them). 




The bike still runs really well, starts no problems, no knocks or vibrations. We have a lengthy service bill which was done by a Morini specialist in Germany.
I hate to admit it but the looks are growing on me.  I see details from several bikes in its' styling.  It's not perfect, it's got some miles and you won't win any races with it but I bet you won't see another one; no matter where you ride.
Ian