Location: Valencia, California
Mileage: 40,454
Price: Auction, currently $3,050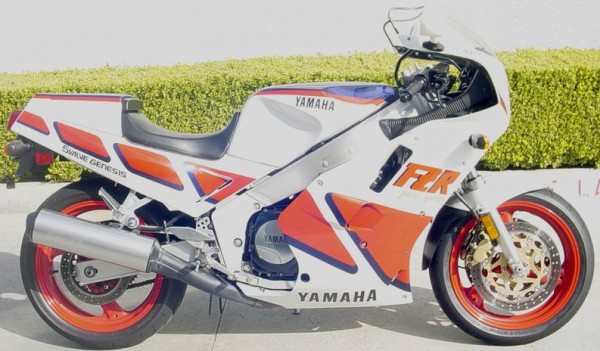 Oh, the memories of seeing a clean sportbike from the 80's. The late 80's and early 90's were my formative years when it comes to motorcycles. My first bike was an '88 Hurricane 600 and I worshipped all sportbikes at the time. And it was then as it is now, the liter bike was the king. GSX-R 1100's, FZR, Ninja and Hurricane (CBR) 1000's were amazing bikes that someday many of us hoped to own, if they didn't scare us too much.
Here's what the seller has to say about this example-
1987 Yamaha FZR 1000. The first year of the 1000. Don't let the miles fool you this bike is extremely clean. It runs, shifts and stops perfectly. It is bone stock except for a washable air filter and a 49 state ignition box. I bought this bike from a local dealer who bought it back from the original owner. It comes with a factory service manual and a little log book from the orig owner. Since owning it I have put new tires on it, chain and sprockets,  steering head bearings, fork seals, battery, front brake pads, valve clearance insp and oil change. The bike has never been dropped in any way the only flaws are the small scratch on the red decal on the tail section, missing screen fastener and slightly spotted/scratched original wind screen. It also has a brand new fuel tank from Australia because the orig rusted in the corners, if you have owned an FZR you will know what I am talking about. Current CA reg and clean pink in my name. 

If you have any questions or need specific photos just ask.

I will not crate the bike but I will meet with shipper for pick up. Cash payment in person preferred. Will take check or money order but I keep the bike until it clears.
And some more photos-
As the seller mentions, '87 was the first year of the FZR1000 and this looks to be a clean example. The seller also mentions the mileage right off the bat, and if the bike has been maintained, then you should have more riding time down the road on this beauty. The bike looks good cosmetically and the seller highlights some small issues, including a ding as shown in the photos. Overall, pretty amazing considering the age of the bike. The gas tank has been replaced, something that has to happen if there's rust. For pure collectors, that may be an issue, but I think this bike is more about having a cool liter bike from the beginning of the sportbike era.
Who knows what the reserve is on the bike, but I would imagine something like this would be around the $4k mark or a little higher. All in all, a cool early liter bike for possibly not a ton of cash. If it speaks to you, check out the auction!
-RN