For Sale: 1993 Ducati Superbike 888 Corsa
Dec 1, 2011 update: The seller has uploaded many new pictures of this bike. Jump over the to the auction to check them out!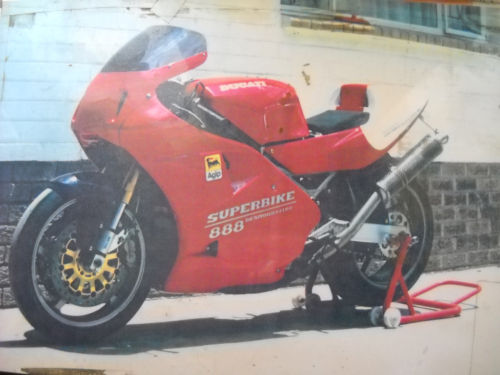 Here is a very interesting and rare Ducati model with very little supporting information: A 1993 Ducati 888 Corsa (Corse) edition. The Corse edition bikes were shipped from the factory intenting to be racers – no lights, limited electronics (just fuel injection and what was needed to run the motor), special bodywork and components. This program originally started with the 851, which in the later years was really a 888cc motor with 851 badging. By 1993, the 926cc motor was introduced, although the 888 badging remained.
From the seller:
Ducati 888 corsa 926cc vin nr888S*002189 build as a factory racer for the 93 world super bike series I believe there were only 32 been build.The bike is in good running condition and have all the original parts on the bike
There is no race history listed here, so the actual timeline of the bike (where it was originally sold, who rode it, which races, etc) is really in question. But that is the amazing thing about old racebikes – they are a mystery waiting to be discovered. For example: How did this one end up in South Africa?
The seller claims to have all the original parts on the bike – which is exceedingly rare for a "vintage" racer. These are often upgraded and modified from year to year, and generally become frankenbikes as bits are added, removed or changed.
I would love for some of the RSBFS Ducati tifosi to chime in here if they know more. There is a dearth of information on the bike and the opening ask is only $4k with reserve in place. What do you guys think, and what is it worth? For more info, click here and check out the auction. Let us know your thoughts!
MI