Location: Canoga Park, California
Mileage: 10,515
Price: Auction, $5,000 BIN
I will never get over how good looking this bike is. The blue and white fairing, the old school GSX-R frame. It really does't get much better than this in the GSX-R world and I would put this up against any other bike out there. Maybe not as stylized as the Italian counterparts, but this GSX-R reminds me of a classic American muscle car. It looks bad ass, doesn't hide it's intentions and has no pretense of refinement. I love it.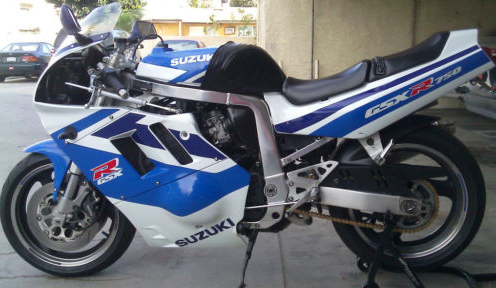 This bike looks to have gone through a few owners, but has had recent maintenance. From the seller-
 1991 Suzuki GSXR 750

**Great Shape & Very Clean Condition**

99% Stock

10,515 miles (mileage will go up as I still ride, but not more than 200 miles)

The bike is very strong, smooth & shifts through every gear without any problems.  ALL lights, turn signals & horn are in working order.  It is a great looking 20 year old bike and I get a lot of compliments wherever I go.  Everything is original with the exception of turn signals, license plate bracket, rear spools & DID gold chain.  The rims were polished by previous owner.  There are some minor scratches which are shown in the pictures.  Front brakes are good & brand new rear brakes.  Tires are in great shape and will last for another few thousand miles.  I made every effort to show the condition of the bike with the pictures I've taken, though no warranty expressed or implied and is Sold As IS.  I'm sure you will agree that this is a great & clean looking bike.  She is always stored indoors.  I have a clean California title in hand.  Registration is good till November 2011.  I have a 100% positive feedback so please bid with confidence.  I just recently sold my 1989 FZR 600 & 1990 Suzuki Katana and I'm selling her to downsize.  A new bike cover, Bully lock & Onguard lock will go to the winning bidder.  The rear stand IS NOT included. 

Here is a little history of this bike:  First owner, who was in the military, sold bike after putting 900 miles on it.  The second owner traded the bike to his brother, an auto mechanic, for a truck.  It stayed stored in his garage & was not ridden for the last 10 years before I bought it with 9,976 miles.  The speedometer needle broke, which was common for these early models.  This was confirmed to me by two mechanics at Suzuki of Van Nuys & Tarzana Motorsports.  Suzuki used to sell speedo needles separately due to this.  I purchased a brand new OEM speedometer as you can see in the pictures.  The old speedo will go with the sale.  Below are recent maintenance & items I purchased.  I have the receipts & will include them with the sale.

See link below for more pictures: 

http://photobucket.com/1991GSXR750  

March 2011 ($791.15)

·        Carb Overhaul

·        Oil & Filter Change (Castrol ACT EVO Xtra Oil 10w40)

·        New Air Filter

·        Parts Unlimited Heavy Duty Battery

·        Replaced All Intake Manifolds & Intake O Rings

·        New NGK Spark Plugs

·        Derust Fuel Tank

August 2011 ($1,316 Parts/Labor) Driven ONLY 469 Miles Since This Service

·        Replace Fork Seals, Dust Seals & Fork Oil

·        New PSR License Plate Bracket 

·        New Front & Rear Arrow LED Turn Signals w/Separate Relays For Each LED ($340 for labor – Did not have working signals when I purchased bike)

·        New Black Driven Rear Spools

·        New DID Gold Chain

·        New OEM Speedometer w/New Bulb ($220)

·        New Bulb For High Beam

·        New Rear EBC Brake Pads

Bidders with zero or negative feedback please contact me prior to bidding. Otherwise, I reserve the right to cancel your bid.  Winning bidder must contact me within 24 hours of the auction close and the purchase transaction completed within 4 days. I reserve the right to re-list or sell the vehicle in the event of a non-paying bidder and negative feedback will be given.  Please do not bid if you don't intend to pay.  I also reserve the right to end auction early as bike is being sold locally.

I will take PayPal, Cash or Cashier's Check (CC will have to clear bank before bike is released…7 to 10 business days).  Buyer is responsible for shipping or local pick up.  Please let me know if you have any questions.  

Thank you!
Not a lot of pics in the auction (but many in the photo bucket link above)-
Again, this bike seems to have only gone through a few owners, been stored inside, and has relatively low mileage. There have also been some modifications, but not many, and there does seem to be a lot of recent maintenance. Good to know if the bike has sat for quite a while, as the seller describes. There are some dings and scratches that are highlighted in the pics on photo bucket. Some people might find the bike has a few too many cosmetic issues, but they don't seem too bad to me.
So, seller is asking $5,000 BIN. Seems like it may be a bit high with the condition but not crazy. Certainly anything under that mark makes it pretty attractive. And I can't get over the paint. Just beautiful.
I obviously like these bikes. If you do too, make the jump!
-RN