Faster/Stronger/Lighter: 2004 Ducati 749R #257
Location: Bay Area, CA
Miles: 11,200
Price: $11,500
Here is your daily dose of fiber, of the carbon variety. If you're looking for a not-so-average Ducati, then the 749R is just what the doctor ordered. Unlike the standard and 'S' models of the 749, the R was built with one goal in mind: speed.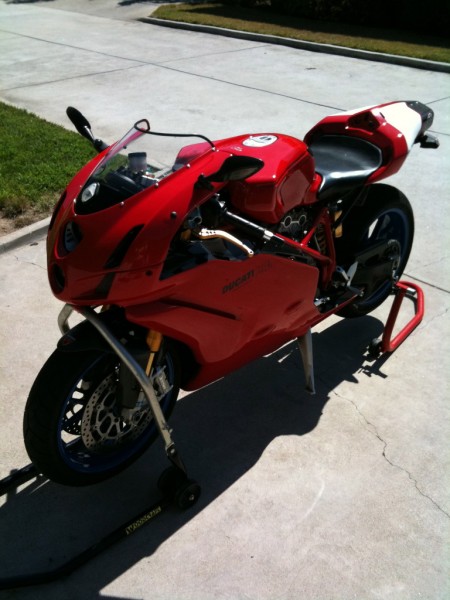 You may be wondering what separates the 749R from the others. First off, the 90 degree L-Twin had been reworked with an increased bore and shortened stroke, allowing the engine to reach a higher rev. Titanium valves and connecting rods also help the engine achieve a bump to 121hp (up from 108hp on the standard version). To manage the new found power and offer better performance on the track, an Ohlins fully adjustable shock can be found out back as well as inverted ones up front in combination with four-piston Brembos. A slipper clutch was also utilized in the R version to prevent rear wheel lock upon downshifting and hard engine braking. If you are in the market for a 749R, make note that 2004 was the only year it was available with the carbon fiber bodywork.
The particular bike for sale here looks to be a well-maintained and a non-abused version. As is with most Ducati's, there are some modifications including a Termi exhaust, Ducati performance mirrors, CGR levers, and BCM rear-sets. Probably the most noticeable modification to this bike is the powder coated blue wheels. If you aren't on board with the blue, powder coating wheels is relatively inexpensive and they could be returned to their stock black color.
From the seller:
"2004 Ducati 749R
11,200 miles
Dealer serviced
Very clean, adult ridden bike

Never raced or crashed

Full Termi exhaust
Ducati Performance mirrors
Light weight Speedcell battery
BCM rear sets
CRG levers
Cycle Cat clip ons
SpeedyMoto under body frame sliders
Carbon clutch cover
Pirelli Diablo Corsas with lots of tread
Wheels powder coated blue
Brakes and drain plug safety wired

Only year 749R came with carbon fiber body work

$11,500.00

Price includes:
Front and rear stands
Complete biposto conversion
(subframe, seat, buddy pegs, rear cowl)
stock rear sets
stock clutch cover
stock mirrors
Extra smoke screen"
This particular 749R seems to be priced appropriately (roughly $22,000 new in '04) and comes with several stock parts if one desires to return it to mostly stock. You even get the exclusivity of the individually numbered plaque (this one is #257)  on the triple clamp, If you like lots of carbon fiber, titanium, magnesium, bikes that are built to go fast, and the unmistakable Italian styling of a modern Ducati, take a look at the seller's ad here.
-RN