1989 Yamaha FZR 400 For Sale
Location: Newport Beach, CA
Mileage: 13,500
Price: $5,000 B.I.N.
Following on the heels of Mike's FZR 400 post is yet another fine example of a timeless machine. Can you feel my love for FZR400's?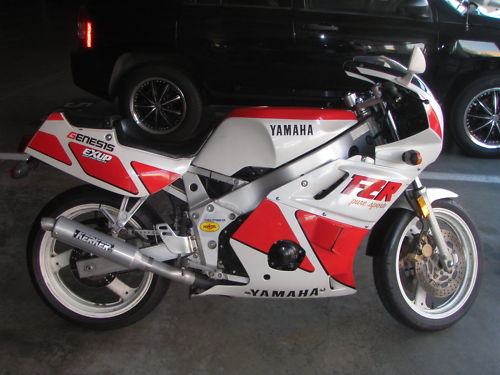 As Mike mentioned in his post, I've owned, raced and been enamored with these most of my adult life. It all started in 1990 when I purchased my first sport bike, a 1987 Kawasaki 750R Ninja. My riding buddy had a brand new 1990 FZR 400 with a Vance & Hines Super Sport exhausts. That sweet sound had me at "Hello!"….er…… 14,000 rpm's. 14k isn't a big deal today, but back in the day that was balls out and screaming. Okay, so it only screamed to 135mph, but it was touted as the best handling sport bike ever made and can still hold it's own to this day.
From the seller:
Here it is!, A vintage "hard to find" Yamaha FZR400 Exup / california model. only 13,500 miles !

recently bought & Need to sell for sanity reasons,,, , Needs rightful owner.

Runs Great! Looks Great! no need to say more….
This one looks to be in pretty good shape considering it's 22 years old. So, if you're in the market for a nice ride that is bullet proof and sounds like a million bucks-
Cheers!
dd