I used to own a 1992 907ie, and really miss it. I have a standing search on eBay for this model, and this is one of the best I have seen in 2011. The listing is supplied by the original owner, and the bike has under 1,100 miles. He states he puts about 100 miles per year on it. Tires and battery are less than two years old.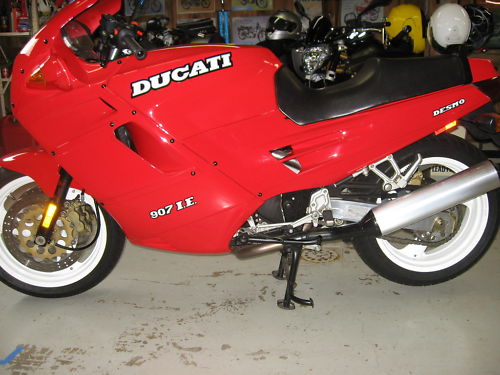 Unlike most Ducatis of the time, this is a square-tube framed bike. The frame is quite ugly, but the body work makes up for it. The motor is the familiar L-twin with belt-driven cams and the desmodromic action. The unit on the 907 is two-valves per cylinder, and it is fuel-injected and liquid cooled.
I can tell you from experience these things are super sweet to ride. They have about 75 HP at the rear wheel, and rev to about 9,000 RPM before hitting the limiter. Even though they're 20 years old, the suspension is very sporty, providing plenty of ground clearance (though I would never take one to a track). It is a bit heavy at about 500+ pounds, but you don't much notice it, and the brakes are excellent. The stock seat gets tiresome after 150 miles, but Corbin still markets a replacement.
The pictures are really only adequate. The owner has good feedback on eBay, so I trust that the bike is in excellent condition. The description says box stock except for tires and battery. I can see, however, that this bike has the European-option tail light on it, which is a highly-desirable feature that combines stop light and turn signals in to one cohesive unit. The stock pipes on this are really ugly, but Ferracci might still have a set laying around. Note a swap of slip-ons will require a new chip for the EFI.
The stock gearing on all older Ducatis is too high. The simplest fix is to drop one tooth from the front sprocket, which should allow the existing chain to be used without modification. A better solution is to add two teeth to the rear sprocket, but that would require a new chain.
This model bike needs valve adjustments every 6,000 miles, and belt changes every 12,000 miles. A typical Ducati owner accepts those costs as the price of admission. If I were to buy this bike, I would get the belts changed immediately, add two teeth to the rear sprocket, find some decent slip-ons and chip, then happily put perhaps 1,000 miles per year on it.
Two problems with this bike are fairly common. There is a clock in the dash that usually dies. Also, the regulator is prone to failure, but recent Ducati regulators can be swapped in. The mirrors rarely survive a tip-over, and they are very difficult to find. But the bike has 17″ wheels and can be fitted with current technology sport bike tires. The K&N oil filter is still common among some current Ducatis and Aprilias.
This model is the first Ducati I ever laid eyes on back in the late 80's, and I was amazed back then by the sound. It was a privilege to own one for several years. I now have an ST-3, which is a better bike in most ways than the 907ie, but definitely not as handsome.
Only 2,300 total of the Paso (750) and 907's were ever built; I don't know the import numbers for 1992. The current bid is just over $2,500 with a reserve not yet met. At the end of 2010 I saw a '92 907 on eBay go for about $7,500. That bike was also a one-owner, mostly stock, with less than 2,000 miles on it. So, a BIN of $5,000 is one heck of a bargain. If I were not in the midst of starting a new company, I would snap this one up at the BIN.
This was a guest post from Philip. As you can tell, his email to me was so complete that I asked if we could turn it into a guest post. Thanks for the heads up and the detailed analysis Philip! -dc