It is always nice to see a rare Italian bike and this 750 F1 is a perfect example. The F1 came about from being the road going version of the TT1 race bike, albeit a few years later. This particular version was created to celebrate the by Grau, de Juan and Reyes in the 24 hour race at Montjuich Park. This bike had hotter cams, bigger Dell'Orto's and a freer 2 into 1 Verlicchi exhaust. This is one of 200 produced.
This looks like a nice example: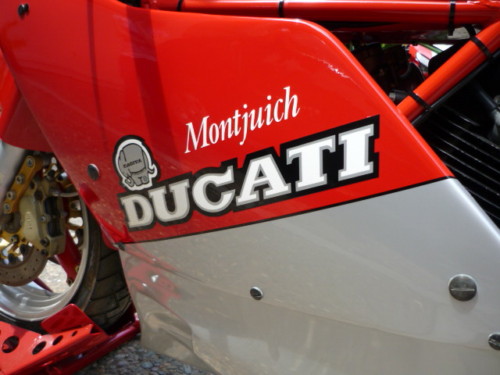 quote from seller's listing:
If you are reading this you probably know what this bike is. This is a Ducati 750 F1 Montjuich. The
first of 3 limited editions that Ducati made of the F1. The Montjuich is the rarest of the 3 with the most
upgrades over the stock F1. It has approx. 1600 kilometers (will post actual later) and has been dry
stored for at least 10 years. I purchased the bike on E-bay on 09/27/07 for $27,000.00 . This bike was
once owned by Guy Webster and was the actual bike pictured in The Standard Book Of Ducati by Ian
Falloon. The man I bought it from was acknowledged in this book by Falloon.

I have never had the pleasure of hearing this bike run, that will be my biggest regret of letting it go!
There is a scratch on the front fender, I tried to show it in a picture. There is also some spiderwebs on
the right side below the seat. I also noticed some pitting starting on the exhaust and the handle bars.
This is exactly how the bike was when I purchased it. It is #153 as you can see on the tank badge.
The rest of the bike is in great condition. If you have any questions please let me know and I would
also be happy to get more pictures for anyone interested. This is a very special bike and it is also a
large investment, I don't want any surprises to anyone so please ask questions!

Also, I purchased the bike with only a bill of sale. I do not have the title. Thanks and good luck!

OK, actual miles is 1545 Kilometer approx. 960 miles. Sorry for the confusion I did not have actual
miles when I posted the listing. Also have only 1 key. I tried to post more pictures but was not able. If
you would like to see any pictures of the exhaust or handlebars please let me know. Thanks
Clearly there has to be a concern on the state on the engine as it has not turned over for some time but even so this is a very rare bike. It is original in all aspect and has been cared for in the way it has been stored. Also it has a history with famous owners which will only add to the value and of course gauging the value is tough given the rarity. Already however bidding is brisk with 5 days still to go and so it seems that the seller will certainly get back what he paid for the bike in 2007even though the economy has been tough since then.
– AS
{Note: Andrew is our latest contributor on RSBFS. Please give him a warm welcome and leave a comment! -dc}