We got some great submissions this week from our readers. Take a look:
These two are from Dan in Canada:
quote from his listing:
1998 Aprilia RS250, RS 250. 20615KM.
2 stroke V-twin engine, 140 KG, inverted fork, plastic tank. 100% original and unmolested condition. Never dropped, just like new. Registered in Quebec, legal for road use. 17 digit serial number. This is not a race bike converted for the road. This is the real deal.
and his 1990 Yamaha TZR250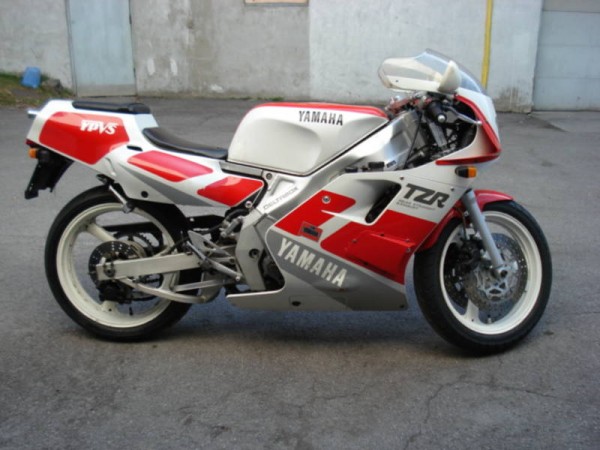 quote from his listing:
1990 Yamaha TZR250 3MA. 13400 KM. 136 KG
Bike is in excellent mechanical condition, plastics are 8/10. 2 stroke parallel twin. All original. Licence in Quebec and passed mechanical inspection. 100% original condition.
Good luck with these Dan!
—————————————————————————————————————
1987 Honda VFR400R For Sale in Jacksonville on Craigslist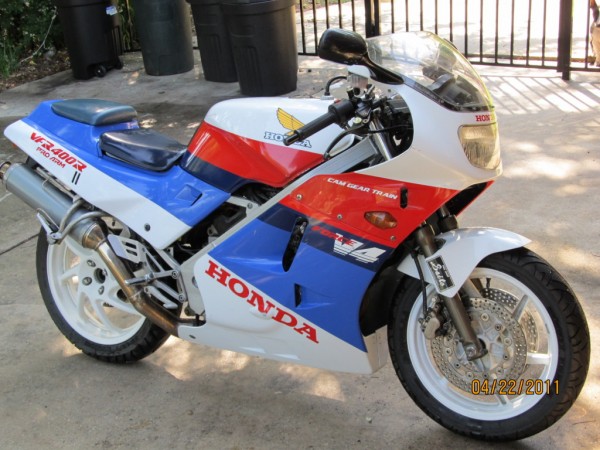 quote from the listing:
It features a V-4 engine that's 400cc producing 60 hp @ 14,000 rpm. A one sided swing arm (Hondas Pro-arm) that has a Cam Gear Train which produces a distinct high pitched whine that sets this bike apart from others. I have all the paper work on the bike since it was shipped here to the United States. Everything from the original shipping invoices to oil changes and tire purchases. The bike has been meticulous maintained and is in 100% original collectors condition. The odometer reads 18100 KM which is approximately 11,246 miles. The bike has just been freshly serviced for the warm weather but misfortune has forced me to place the NC24 for sale. Recent service includes; All fluids changed, oil filter changed, front forks rebuilt, carburetors cleaned out and re synchronized, radiator fan replaced and front brake pads replaced. The bike runs great, starts right up and idles well. Tires still have nipples and are like new.
Great looking bike and well priced at only $3k with plates. Thanks for the email Jon and good luck with the sale!
—————————————————————————————————————
I'm considering making this a weekly feature. If you have a bike for sale that we should consider, check out your options and email me!
dc