For Sale: 1987 Suzuki RG 250 Gamma with CA title
Predecessor to the RGV series of two-stroke v-twins, the original Suzuki quarter-liter "racebike with lights" was a parallel twin known as the RG. Introduced in 1983 and manufactured through 1987, the RG250 was very advanced for its day. The Gamma series was one of the first – if not THE first – mass produced sportbike with an aluminum frame. This RG model also sported a single shock "Full Floater" rear suspention, slippery aero bodywork, modern 4-piston brake calipers and an anti-dive fork.
This particular bike appears to be a MK III machine, including a power-boosting Automatic Exhaust Control (AEC) system. Unlike Yamaha's YPVS system which altered the height of the exhast port, Suzuki's AEC utilized a butterfly valve in the head to alter the capacity of the exhaust – thereby widening the powerband and increasing total power to approximately 50 bhp. Bolted into a sharp-handling chassis and weighing in at approximately 285 lbs, the Gamma offered racetrack performance.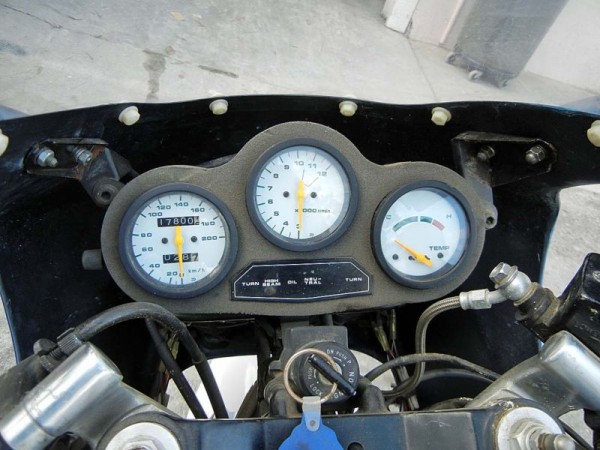 From the seller:
1987 Suzuki RG 250. Looks good, strong runner. Has Avon Super Venom Tires near new tread depth. Has been run up Palomar Mountain, a worthy 7 mile steep climb from 2,200 to 5,500 feet altitude, with 230 Lb rider.

Milage shown on speedo is in Kilometers, converted to Mph in info area. Original paint except for upper fairing and front fender. Red Suzuki decal has some scratches but reproduction ones may be available on the net. Reg Expired 2007, but is on PNO , so no penalties.

Larger pictures can be e-mailed, direct if closer look for blemishes is desired. Bike always stored indoors , and run every couple of months to keep healthy. Have very large bike collection being thinned down to make more space.
This particular seller is a well known collector. His stable is said to include more than 300 bikes, and thus the "thinning the herd" comment is probably true. We don't see a lot of RG250 Gammas run through RSBFS, which speaks to their relative rarity. Considering this one has a valid California title (nearly impossible to obtain and a definitive price booster for CA buyers) and appears to be in reasonable condition, I would estimate that it will fetch fair market money.
So what is "fair market money" for one of these? Generally, a RG250 will run from $2,500 – $5,500 depending upon condition and model. The Walter Wolf editions tend to bring just a bit more – but not always; auctions can be fickle beasts. The reserve is apparently set just below $4k, which is about what this bike will likely sell for.
For all the pictures, details and more, . Tell 'em RSBFS sent you!
MI