W$$ Aspirations?  2009 Factory Triumph 675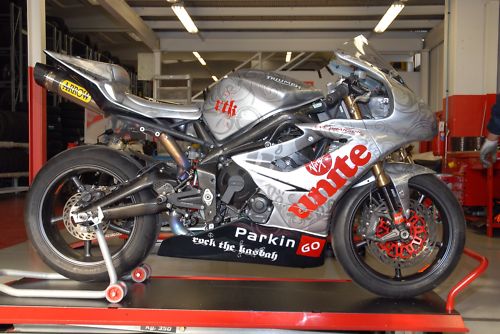 Here is the cure, if you have the itch to test the waters of WSS racing.  I'm assuming that would apply to almost no RSBFS readers (we can dream though) but I'm sure there might be a race bike collector or two that might be interested.  This little 675 isn't cheap though.  The starting bid is $150,000 and the BIN price is $200,000.  Yikes, is that what it costs to run mid pack in WSS ?  Now time for me to get on my soap box.  I don't know if that price is reasonable for a WSS race bike or not.  What I do know is that for a bike of that price you have to advertise the darn thing correctly. 
There is this from the auction:
I AM CURRENTLY ONLY OFFERING THIS (1) PICTURE OF THE BIKE DUE TO THIS PIC HAS ALREADY BEEN RELEASED IN THE NATIONAL PRESS RELEASES AND I DONT WISH TO RELEASE OTHER PHOTOS AT THIS TIME.
What?  This isn't the Holy Grail.  This isn't even a championship winning bike.  It is a very nice race bike that I'm sure a lot of people would love to own. For that asking price show us some darn pictures of what she's got.  I was expecting some serious race bike porn when I came across this auction!  In the sellers defense there is a lot of text info on what has been done to the bike.  It's a  lengthy text so you'll have to check out the auction for all the details. 
Ian is here to hook you up though.  I found some BE1 Racing test footage from 08.  Not exactly the same bike but should be pretty close.

And here is a link to a Flickr account with a bunch of photos of the team and bike.
Now wrapped up in this whole auction is something about a charity event and the bike being donated for the event.  My weary brain can't quite figure out what exactly is up.  If you can figure it out feel free to post in the comments.  .
IK