Screaming Good Time:  1994 YAMAHA TZ125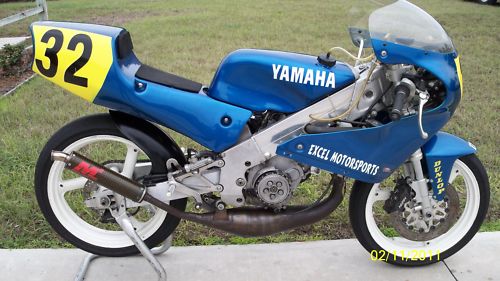 Here is something a little different for anyone shopping for a fun track bike.  Although TZ250's are regulars at the track, not so for its' little brother.  Most everyone seriously racing a 125 is on a Honda RS125.  Most of us mortals aren't that serious about racing and are just looking for a good thrill at the track.  I would think this TZ125 would do the job quite nicely.
What does this photo say to you?  To me it says ease of maintenance and low cost.  If you haven't owned two strokes they may seem a bit mysterious and complicated.  The way the expansion chamber charges the engine is mysterious but other than that they are very simple machines with much fewer parts than a comparable four.  Fewer parts means less to buy, so more money in Joe RSBFS readers pocket.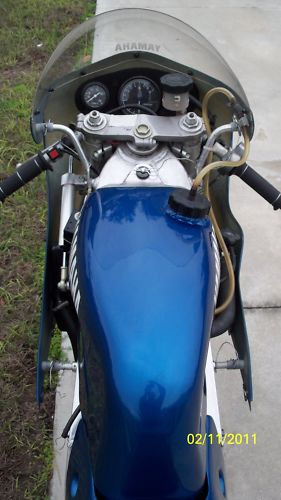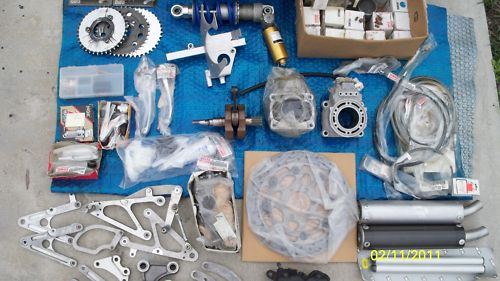 Mmmm, nice spares kit.  Read on for all the details:
 THIS IS A VERY NICE PURPOSE BUILT PRODUCTION ROAD RACER, SIMILAR TO THE HONDA RS125,  A GREAT STARTER BIKE FOR ROAD RACING AND STILL COMPETITIVE IN AHRMA SOUND OF SINGLES RACING – ALL AT A FRACTION OF THE PRICE OF MOST OTHER OPTIONS…

RUNS GREAT…

HAS NOT BEEN RIDDEN COMPETITIVELY FOR OVER 10 YEARS (I BOUGHT IT FOR MY COLLECTION, AND HAVEN'T HAD THE TIME TO USE IT), AND THE PREVIOUS OWNER WAS AN OLDER RIDER WHO USED IT ONLY FOR TRACK DAYS FOR 7-8 YEARS…GREAT FUN TO RIDE; IF YOU'VE NOT RIDDEN A SMALL PRODUCTION ROAD RACER, YOU'LL BE IMPRESSED WITH THE PERFORMANCE AND NIMBLE HANDLING…

MANY SPARES COME WITH IT…

        FACTORY SPARES KIT

          MANY 1996 UPDATES (C/O PREVIOUS OWNER)

          SOME OF THE SPARES INCLUDE:  SWINGARM STAND, REAR SHOCK, MUFFLERS, PISTONS, RINGS, PLUGS, GASKETS, JETTING, FORK SPRINGS,  FRONT BRAKE CALIPER AND ROTOR,  ASSORTED GEARING, PETCOCK, FOOTPEGS, PIPES, CABLES, THROTTLE PARTS, POWER JET, CYLINDERS, CRANKSHAFT ASSEMBLY,  FORK SEALS, AND MANY OTHER ASSORTED SMALL PARTS…PLEASE SEE PHOTOS

THERE ARE SOME COSMETIC BLEMISHES ON THE FAIRING/TANK, AND A CRACK ON THE FIBERGLASS

OTHER PHOTOS ARE AVAILABLE UPON REQUEST…AND, OTHERS CAN BE TAKEN…

DELIVERY IS POSSIBLE WITHIN ABOUT1500 MILES FROM SOUTHWEST FLORIDA FOR THE COST OF FUEL, AND A FEW NIGHTS IN A MODEST/CHEAP MOTEL…

SHIPPING, CRATING, AND DELIVERY IS THE RESPONSIBILITY OF THE BUYER.  PACKAGING SPARES AND DELIVERY TO A SHIPPING AGENT WILL BE $150 (THERE ARE A LOT OF SPARES)…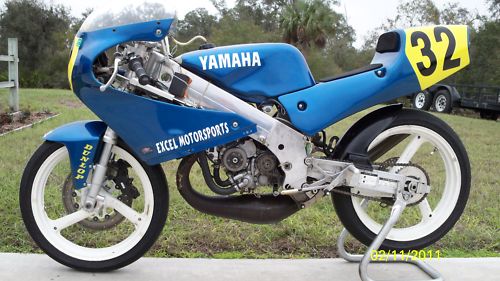 A quick search of the internets revealed people are still trying to squeeze performance out of the tiny TZ.  One option included a new cylinder, head and pipe that allowed the bike to run RS125 pistons.  In other words, "there are ways to waste your money with the TZ".  This is an Ebay bike and as of this writing there were no takers on the auction.  and see if you can come away with a unique track bike.
This pretty much sums it up. Watch the TZ catch him on brakes.

IK