RGV For The UK, It's Coming Sometime Maybe! 1996 RGV250SP VJ23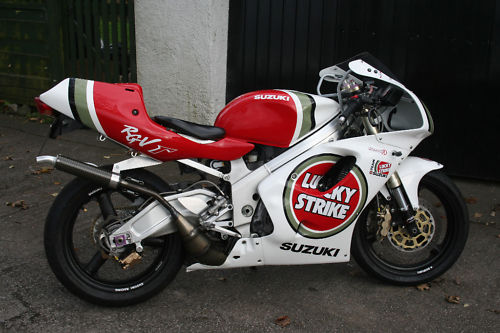 Does anyone get referance in the headline?  One more hint, this is one VICOUS RGV.  Just my lame attempt at trying to make a UK connection.  Enough of me screwing around.  This 23 isn't in the U.S., it isn't stock and the paint isn't original.  Turned off?  I sure as heck hope not, this 23 is niiiiiice.  In my opinion it has been very tastefully upgraded.  If your interest is peaked you might have to make a quick friend in the UK as the seller isn't open to overseas bids.  Stop frowning and enjoy the pictures!
First off,  the bike has been derestricted properly with a Sugaya R2 CDI (considered the best non-racing CDI for the 23) and Sugaya pipes (again considered the best among most 23 owners).  It sounds like he has also set up the air box to "V" model specs.  Not a complicated procedure but the "V" model has some different hose routing into the air box.
That's not a stock Suzuki shock hiding in there.  Check out the list below for all the goodies he has added to the bike:
 

 Here for sale is my  RGV 250 SP VJ23.     1996

 If your looking here then you should know the spec of these bikes.

Lucky Strike paintwork. Dry clutch, Close ratio gearbox, kais re-valve and re-sprung forks

Sugaya race pipes, Sugaya R2 derestricted ecu box, derestricted airbox, pipercross air filter,

WP steering damper, special clock bracket, Braided brake lines, GSXR 6 pot calipers,

Brembo master cylinder with folding lever, folding clutch lever, Nitron track rear shock  ( cost £500 plus and done hardly any miles ),

Small indicators, harris fuel tank cap, Rear wavey brake disc,  £500 spent on Ti fasteners,

Dunlop Alpha 10 tyres ( done 80 miles ) The bike has 1015 km on the clock, Mot,d, taxed and V5 in my name.

The bike was imported approx. 3 years ago by fastline and has had 1 previous owner before myself.

The bike is in immaculate condition. It is running a daytime mot at present. (as headlight is not present with Lucky strike fairing/ but standard bodywork comes with std fairing and headlight )

Here is a list of spares I am including in the sale.

Full bodykit in original colours ( minus front mudguard )  excellent condition.

Standard unrestricted exhausts with both std end cans and swarbrick carbon cans. excellent cond

Rear foot peg hangers , rear pillion seat , std indicators , std rear shock , std front master cylinder and clutch lever , Head light/clock bracket and headlight unit, White mirrors .

Std sapc control box and std carb jets.

The bike is as you can see excellent condition. It has been run on fully synthetic 2 stroke oil.

The bike is very very light and very powerfull and is immaculate.

Viewing can be arranged. No scammers. Strictly no timewaters.

£300 Deposit to be paid within 2 hours of auction end via paypal, ( sorry but, I don't want to be messed around ) Balance on collection. ( cash ) within 5 days.

Any questions please ask. No overseas bids. No overseas postage. less than 10 feedback please contact first or I will remove bid.

Bike is advertised elsewhere and may be removed from auction.

 Just to add that the lucky strike paintwork is on genuine suzuki panels and not pattern/ fibreglass panels.
Tasteful carbon cans.  The stock ones weigh a ton.  The stock pipes and mufflers are more suitable as boat anchors.  Those pipes will cost a good $1800 dollars to have made nowadays.  Yes, Sugaya will still make pipes on a special order basis and no they don't produce CDI's anymore.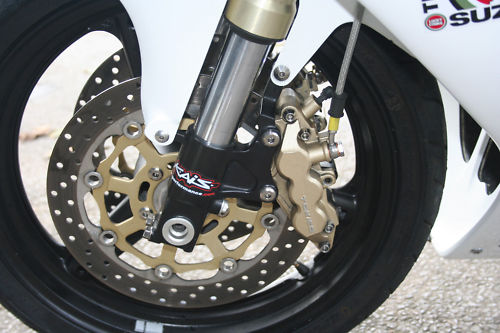 A little extra stopping power courtesy of a GSX-R.  Like almost all Japanese home market bikes the 23 forks are softly sprung stock.
This thing is barely broken in with 1016KM's on it.  I can't see a single draw back with this bike other than it is out of reach for most of us here in the USA.  Starting bid converted is roughly $9,300.   While I do not know the seller personally I do know he is a long time member of the RGV forum on RGV250.co.uk .  I've been a member for years and can honestly say it is one of the most helpful forums out there and is filled with a good group of guys with a wealth of knowledge on everything related to RGV's.  .
The man who made the Lucky Strike RGV250  famous in Japan, Noriyasu Numata.  He won the All Japan Championship in 96 and piloted the RGV250 in the GP's for two years in Rizla colors.  He is seen here with a the 1994 works RGv250.  He  died a few years ago testing tires in Japan.

IK