1991 Suzuki GSX-R 1100 for sale
Location: Phoenix, AZ
Mileage: 7,599
Price: Update 12.12.10: Sold!
We've featured a few of these on RSBFS.com previously and we've been alerted to yet another one that deserves to grace our pages.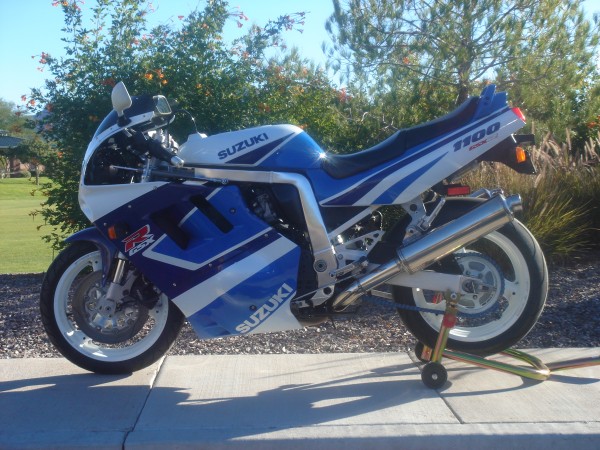 Unlike so many other ones this one has survived the wrath of late night drag racing! Woo Hoo! Thank you Suzuki God-
I'm getting older now and my memory is fading fast, but if I recall these were over shadowed by the razor sharp GSX-R 750's of the day. Although, these did put out a stout 143hp they were a bit porky at almost 560#'s when full of liquids.
With the clip-ons above the triple clamp these were a welcome relief from the norm of the day. It also made it a bit more tolerable running around town and riding 2 up. For those that don't know, this is an air/oil cooled GSX-R motor and they tend to operate on the upper end of the thermostat. I seem to recall a lot of guys removing the lowers during the super hot days while cruising in the Ohio Valley, but with a mere 7,599 miles I don't suspect this one saw much of that. The other notable thing about these early GSX-R 1100's is that they were 5 speeds and not 6 speeds.
From the listing:
The bike is an original Arizona bike and has been stored in this state for all of its life. No rust or corrosion. Just normal wear and tear if any! Bike is completely stock, except for new chain and sprockets. All factory reflectors' are either on the bike or will be when it ships.
The seller has graciously posted a lot more pictures on the auction site for your review. If you feel the need to rock it old skool jump on over and .
Cheers!
dd