This announcement marks 1000 posts on the Rare SportBikes For Sale website! I am so proud of what of what this site has become and am so very thankful! Since making this our home in May of 2008, we have been visited by nearly 700,000 worldwide visitors viewing over 1.3 MILLION pages!
Going back in time, here's the first machine listed on this site, a tasty Honda CBR400RR for a mere $3300: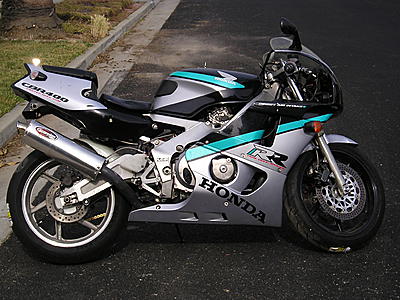 We've come a long way since then, and there are many people to thank:
First and foremost, our fans! Without you, there would be no RSBFS and we are grateful that so many of you value what we do here. In appreciation, I'm offering our shirts on sale this week for $18 shipped! In fact, if you send in a photo of your bike sporting a RSBFS sticker that I can include on the site, I'll make the deal ever sweeter at $16 shipped! Click the graphic in the upper right hand corner of the website to order (special price reflected on payment screen), or email me your picture for the extra special price.
Doug – I met Doug through the website when I insisted he become a contributor on the site — he was submitting so many great bikes that I couldn't keep up with all the postings! He has since become the Operations Manager of the website and keeps the day to day running of website a well oiled machine. This website would not be what is today without his involvement, enthusiasm, and expertise. Thanks for being a relentless worker and a great friend!
Alex – When I first found myself running into trouble maintaining the website while juggling a full-time job, a consulting side business, and a few websites, Alex quickly volunteered to help out. This really was a critical turn for the website because it could've easily been an abandoned project with other priorities in the mix. Thank you Alex!
Ian – When the site really started taking off late last year, we knew we'd need more help. Ian was one of the first to apply and has been a wonderful addition ever since. He is so consistent that we often depend on him to keep the schedule balanced. His knowledge of two strokes and other grey bikes has been a great help to our team. Thank you Ian!
Phil – Another contributor that started as an RSBFS faithful reader, he joined our team in September 09 when I was once again overwhelmed by his plentiful and quality finds. In addition to running his own business in Hong Kong, and the birth of his daughter, he still finds time to lend his expertise, especially on all things Bimota. Thanks for staying with us during a very busy time with your family Phil!
Jay – Responding to our earlier call for help this year, having Jay join our team was really a wonderful surprise. Jay brings years of industry experience and first hand knowledge to our site having owned his own dealership and been responsible for the importation of many rare bikes into this country. He has also helped us get a taste of top tier, privateer racing with his involvement with the Veloce Racing team. Thanks for adding your talent, experience, and affiliations to our site Jay!
I'd like to thank past contributors Steve and Gerry for their work on our sites. Your posts are a great part of our history and we welcome any additions you'd like to make in the future!
To Mike and Brian, welcome aboard! You've both had a great first week and I can't wait to see your next posts.
Of course I'd like to thank our advertisers, SpeedyMoto and Tyga USA. We are flattered that you'd think of us to promote your products and look forward to our partnership in the future.
We hope you're all having as much fun as we are with the website and look forward to a bright future moving ahead!
Sincerely,
Dan Crouch