1991 Suzuki RGV250SP Titled on Ebay
Here it is, back by popular demand of RSBFS readers.  You may remember this RGV250SP from a couple of months ago.  It got a new owner but is back for sale.  In my opinion this is one of the most desired RGV models out there.  First it's and SP (dry clutch, close ratio gearbox, adj. suspension, rare).  Second it has the banana swing arm and third it has one of the most popular paint schemes on a RGV.  Maybe the best feature though is that it is titled: am I correct?  It appears to be in good shape with low mileage (considering age) but the seller states if has a few bumps an bruises.
From the seller:
For sale is my 1991 Suzuki RGV250SP. Yes, this is a real SP w/dry clutch, close ratio transmission, fully adjustable suspension, larger carbs etc etc. Bike has a total of 9300 original kilometers. Bike is all original in rare unmolested condition. This was originally a Japanese spec bike but I have updated it with a  European spec de-restricted SAPC unit.  Only known issues are leaking forks seals and the right turn signal doesn't work (burn out bulb?)  All in all this is a nice original bike. It is not perfect, has a few nicks,cracks and dings hear and there but for a 20 year old bike it is very nice.  It is plated and registered here in California and the registration is current and up to date.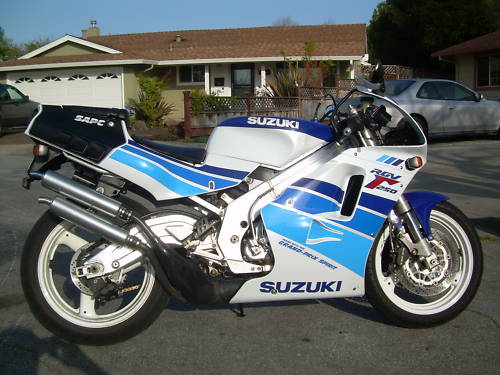 It will be very interesting to see what this .  It has everything going for it except maybe mint condition status.  The first time around the asking price was $4200 w/non functioning clutch.  One small note: in one photo on the 
old posting
the bike has a different tail section on it. If I remember correctly that tail piece with the white background is off a standard RGV.  I'm not hinting at a great conspiracy but might be worth asking about.  One nice thing about RGV's is that there is a large supply of aftermarket goodies that are readily available thanks to the internet.  I've seen anything from bolt on stuff to race prep engine work.  So if you get tired of your boring SP there is plenty to spend your paycheck on.  Unless you are holding out for an ultra rare SP2 it's time to raid the savings account.
Here is some fun viewing to get you in the mood to bid.  It is the promotional video for the standard 92 RGV.

IK