Found this sweet located in Dan's backyard (Damascus, OR) so I thought I'd get it posted up before he did…..;o)~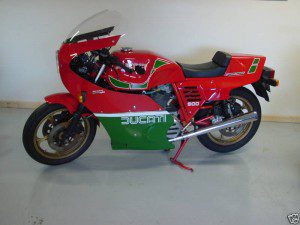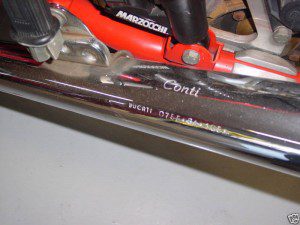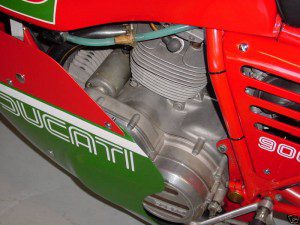 I'm a self admitted "don't know a whole lot" when it comes to Ducati's, but I know Dan and Mark over at Ducati News Today do, so I'm sure they'll save me once again.
It looks clean, complete and it's a replica so I figure I can't be too far off base on posting this one.
Owners comments:
1984 Ducati Mike Hailwood Replica. Although this bike is titled as a 1982, the serial number and configuration make this one of the last 50 900 MHRs before the switch to the Mille (1000cc). This bike has the late dry hydraulic clutch, adjustable clip-ons, air fork cap, calipers mounted on the rear of the fork legs, etc as noted in Ian Falloon's DUCATI BIBLE, 8560, 900 & Mille. It also has the late style side cases (well, it's not really a "round case", but they do look better).. This bike is in excellent cosmetic and mechanical condition and only has 14,818 Kms on the clock, which transalates to just shy of 9200 miles. It has been fitted with extra large K&N filters to allow the the 40mm Dellorto's to breath and exhaust thru a set of proper Conti mufflers. It also has been fitted with a "gear gazer". I've recently replaced the chain and sprockets with top end products from BevelHeaven. The battery is also a sealed AGM battery that I sourced from Bevelheaven. I also went thru the carbs and replaced the fuel petcocks, fuel line and new filters, because the original line was very hard and I was afraid it would crack. The seat cover was replaced with a new original from Andy at Desmo.de because it has a small tear. I left off the passenger grab strap because I didn't care for it's look, but it is included with the bike. The chassis number is DM900R1 906448 and the Eng # is *909248 *DM860. This bike is only 58 numbers older than the MHR that recently sold here for $21,600 early in November (Ebay item 150383231242). Included with the bike is an original parts manual and two oil filters. Note that these late MHR's have a screw on oil filter which is much better than that on the earlier models. These motors also have an oil sight gauge in the side of the motor that is viewable thru a hole in the fairing.
It is being offered with a B.I.N. of $15,000.00 so if your in the market for an antique Ducati this may be the one for you.
dd