I've been meaning to post this cool old Honda VFR for quite a while. It sports the same colors my buddy BV is lusting after on the 2007 anniversary edition VFR800: Classic white with blue and red details with the gold Honda wing logo.
This particular VFR400 is a pretty special model because it was never offered for sale in the states, and it sports some very cool features like the single-sided swingarm, V4 engine configuration, and rev happy 400cc motor. Check out this Honda VFR400 NC24 for sale in Kansas City on Craigslist ($3500):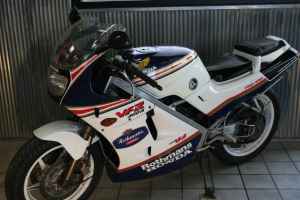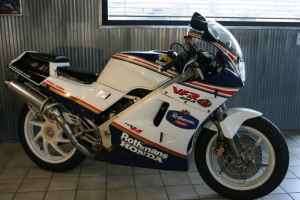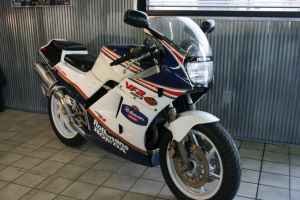 quote from seller's Craigslist posting:
MAKE: HONDA VFR 400 NC 24

ENGINE : 400 CC

TRANSMISSION : 6 SPEED
MILEAGE 40,054 KILOMETERS
ROTHMANS RACING, VERY RARE, ALL NEW DECALS AND NEW PAINT CODES FOR BIKE

www.frontstreetmotors.com
*First things first, this is not an 85. According to this Wikipedia article, the NC24 wasn't introduced until 1987, and this bike definitely sports all the important features of the later NC24 model. But when I first saw the listing as an 85, it made me wonder if the 25 year rule works the same way it does for classic cars in the U.S. – no import or registration issues with models not previously imported. Anyone know for sure? Also, was there a Rothmans edition of the NC24?
It's a cool bike for $3500 either way though! Here's a sweet YouTube clip of an NC24 VFR400 in action:
dc