I continue to marvel at how seemingly available the FZR400 is in the U.S. I remember reading about it in motorcycle magazines and how it would've been the ideal first bike for me. But the FZR400 proved difficult to find and I ended up with the much more common FZR600, and while it was a blast, I still wonder about the 400 when these ad's come up.
Check out this 89 FZR400 For Sale on eBayMotors: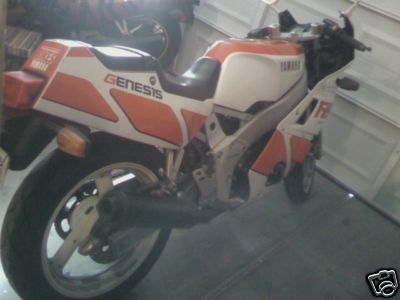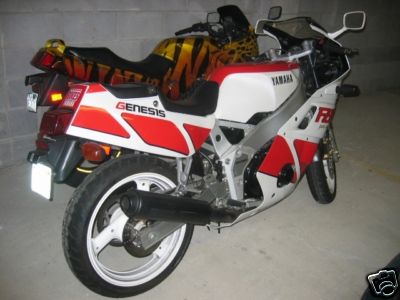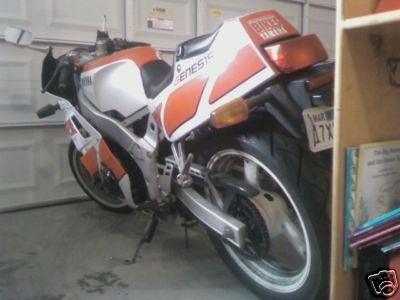 quote from seller's eBayMotors listing:
1989 Yamaha FZR-400 collector bike. Original motor, aluminum frame, fully operational, runs very well, exceptional handling. Avon tires. Up to 60 mpg on regular gas.

I used to commute to/from work on this motorcycle. Due to financial hardships, I am forced to sell this motorcycle. I am the third owner, purchased it with approx 9k miles on it in early 2006 in Richmond, VA. Currently has a CA title.

Damages you see are all repairable, a tie-down failed in the moving truck and the bike fell over/slid into the side of the truck. This bike has NEVER BEEN LAID DOWN on the road. Very well cared for, except for this unfortunate incident. Never raced. Needs a bath right now though.
The FZR400 has an aluminum frame compared to the steel frame of the FZR600, which is cheaper and heavier. Many FZR400's were snapped up by club racers and never to be seen on the street again. But apparently there are more out there ready for street duty than I thought!
dc
Update: This post is pretty outdated. Check out these FZR's on eBay right now:
[AffomaticEbay]Yamaha FZR[/AffomaticEbay]