The first GSXR400 For Sale on Gray Market Bikes For Sale! Naturally it's out of the Bay Area.
1991 Silver Suzuki GSXR400 on Bay Area Craigslist for $3800: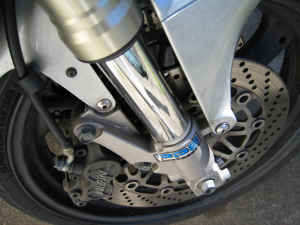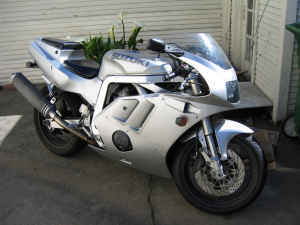 Up for sale is my 1991 silver Suzuki GSXR400. This bike was never sold in America but was sold in Japan and the UK instead. Bought it from a friend who bought it from someone else who collected grey market bikes and licensed them legally in California. So that makes me the third owner of this California plated bike. Bike is in good runnning condition with all fairings intact. This is a real head turner and great performer in the backroads or on the freeway. Handles excellent and power delivery is smooth and fast. Never raced or performed any stunts on this bike. Was mainly my weekend sportbike. Title on bike is CLEAR with about 31xxxkmh (which equals about 19xxx miles) on the motor. Speedometer cable broke at about 16k and since then I've changed the oil 6-7 times at my time of ownership. Usually I change the oil every 3 months or if I think I've rode it about 2500 miles.

[…]

Now this is 17 year old bike that is still running strong with enough power and handling capabilities to lose just about any 600-1000cc bike in the twisties. Though far from perfect there are a few areas that need a little TLC. Personally I have never dropped this bike but the previous owner (who is a friend of mine) did rub the left side of the bike against a small wall at about 5mph in a parking lot while trying to save the bike from falling. This resulted in a small crack to the front left faring where the side view mirror goes and also scraped the clutch plate cover. Mirror was replaced but the clutch plate cover gasket was never replaced and so it now leaks a little bit of oil. The leak is not bad but can be fixed with a new gasket. Fairings and paint are in good shape but do have a few minor scratches on them. Recently the bike has started to leak a little bit of gas underneath the gas tank if it sits unused for a few weeks. It's not a noticable leak but you can smell gas if you park it indoors. When I ride the bike for a few days the smell and leak dissapears so I'm thinking it may be a gasket or the fuel filter needs to be replaced underneath the tank.

[…]
While the mechanicals sound strong on this one, the bodywork sounds like it may need some sorting out. How hard is it to mend body work on a gray market bike? Leave a comment!
Update: Posted on BARF Classifieds
dc