Update 11.2.2017: Back on eBay, this FE previously reached $10,600 reserve not met in July of this year. Now it wears a buy-it-now of $22k. Links updated. -dc
Ducati's own commemorative of 10 years manufacturing the 916-derived superbike, the special order 998 Final Edition had a plaque on the triple-clamp and the new testastretta under the fairings.  This monoposto shows just over 1K miles and is pictured in front of the proverbial barn.
Sporting the classic trellis frame and World Champion Superbike graphics on the tailcone, the FE has the powertrain and premium components to back it up.   The nicely oversquare testastretta knocks on silly power's door with 136hp at 10,200 rpm.  The standard Ducati rev counter doesn't show a redline, but many owners label 11,000 rpm with a "$$$" or "Bang!" as repair costs escalate exponentially.  As an -S, the FE should have the deep sump crankcase, though some claim differences between U.S. and Euro S/FE's.  Fully adjustable Öhlins are found front and rear, and Brembo four-piston front brakes and Marchesini alloys complete the picture.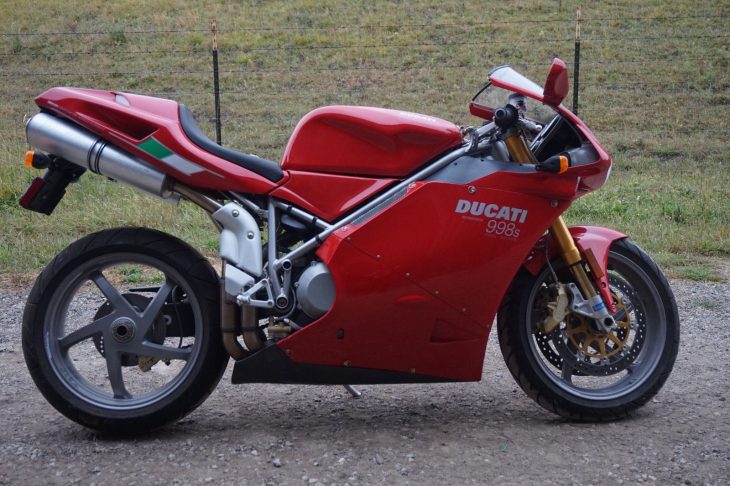 Tucked away somewhere for most of its life, this 998 is a little dusty but unmarked, and appears factory original.  Most owners might have changed at least a couple of the brushed aluminum details to carbon if the bike was handy in their garage or foyer.  Most of the comments in the eBay auction are specifications and advertising, but there's also this –
1 of 112 Ducati 998 Final Edition Monoposto California's made. This bike was only available by special order, it was not available as a regular production model. Quite rare to say the least. I'd imagine this could be, the cleanest, lowest mile one in existence; as I have never seen a lower mileage 2004 998 FE pop up.

Check the pictures, flawless. Radiator is one of the a very reliable bellwether of use or lack there of: it looks almost brand new.  Colorado Title with original owner's name.
Since earth-shattering 999's were being prepared for shipment at the same time, one can imagine the misty eyes as the last few special-order 998's were wheeled out.  The tank decal recalls 8 championships and 115 race wins, a record deserving of a large number 1 in a wreath.  Rarity assured, as a final year edition of a beloved model, and barely used.  With 2-1/2 days to go, bidding is active but reserve is tbd.
-donn