Make: Honda
Model: Super Hawk 996
Mileage: 11,350
Location: Highwood, IL
Price: $7,950 BIN
Back in the day, when I had a great relationship with the local Honda dealer, I was afforded the opportunity to take one of these for the day and run it through the paces. I remember that day very well. The loaner was equipped with a set of Jardine's which gave it a nice low rumble. The Super Hawk felt very narrow- almost smallish to the point of feeling like a NT650 Hawk.
Of course, having 996cc's under you was a huge bonus compared to the NT650's power.
When I returned it to the dealer, I was all smiles and the sales manager asked me what I thought about it. In typical Honda fashion- it did everything well, but nothing really jumped out at me other than it was fun to ride. It was narrow, felt light, had plenty of torque and the exhaust notes were intoxicating. Just like this one, the one I rode was covered in that super rare Honda red color 🙂
From the seller:
"2001 Honda VTR1000F Super Hawk 996 Sport Bike – There is NOT another Super Hawk in the entire country in this condition! EXTREMELY RARE FIND! 1000cc V-Twin BEAST – Original. In miraculous condition. Time to thin the herd – and I have two of these bikes. I'm selling this – keeping the other. The pictures don't do this bike justice. COLLECTOR-GRADE. Carbs cleaned and jetted. Meticulously cared for and maintained throughout its life. Garage-kept and covered. PRIVATE SALE – one of a large, personal collection. RUNS LIKE A DREAM! The Super Hawks are very difficult to find – this one is unmatched and one of the finest true sport-touring bikes on the road. Reliable, quick and BEAUTIFUL. In 2001, Honda introduced – larger tank, upgraded front forks, black wheels, smaller indicators, new LCD dash and HISS. I'm located 12 miles North of O'Hare Intl. Airport. Fly in and ride home or have it shipped. Buy with confidence."
Having been around the Rare Sport Bikes For Sale block a time or two, I always cringe a little when a seller says "There is NOT another (insert any motorcycle) in the entire country in this condition!" I assure you, someone, somewhere has one of these in the factory crate, squirreled away. Trust me Bro!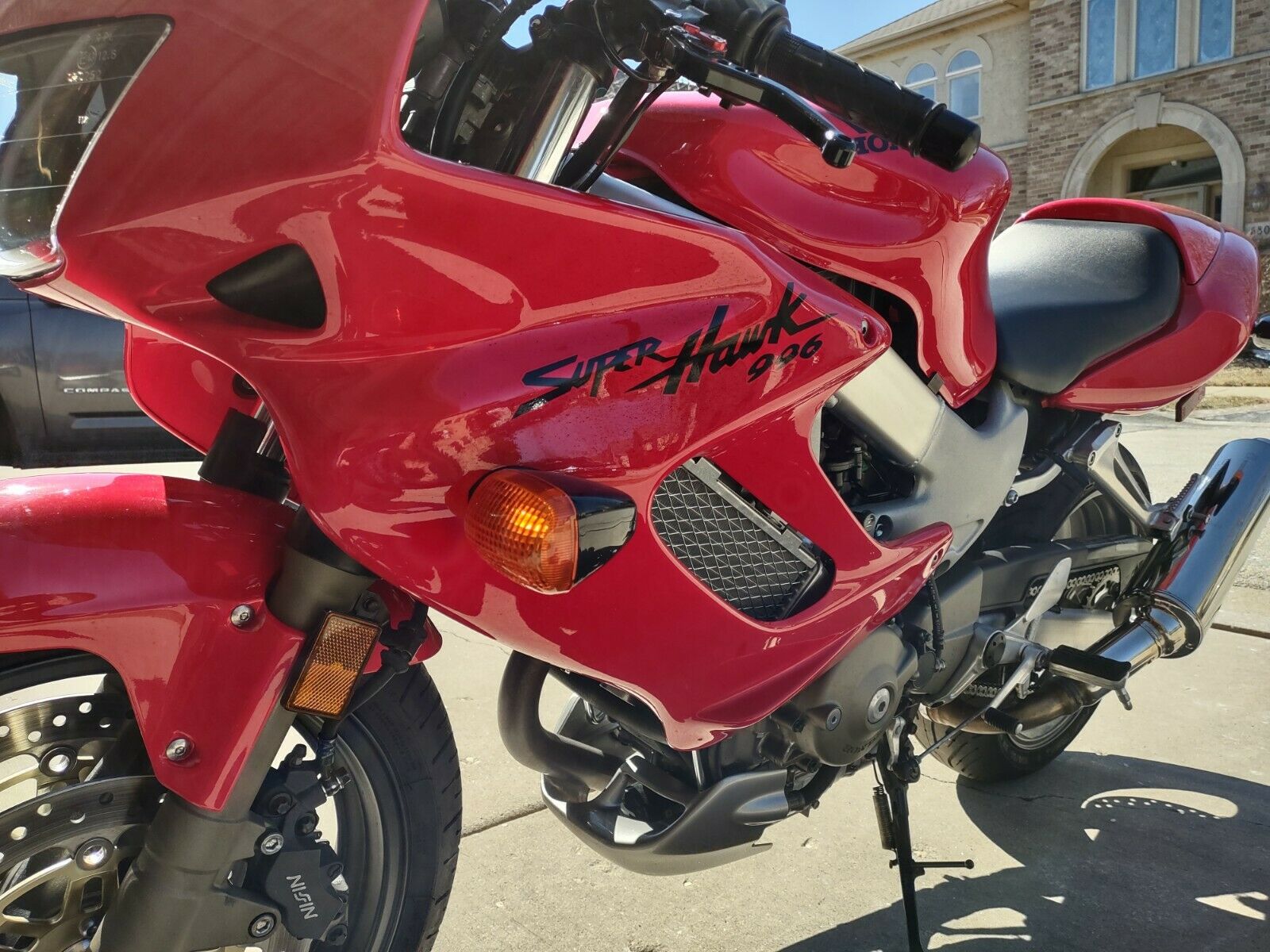 I'm not taking away from how nice this one is because it is a very nice example.
I don't dare post it on here, but if you make the jump over to the auction site the seller has their number listed for easy Q&A.
Click here for more information.
Cheers!
Doug