Update 8.27.2012: Sorry I nearly missed this one, but she's about to close on eBay in about 2 hours. Buy-it-now down to $10k from $12k when originally listed in June. Links updated, -dc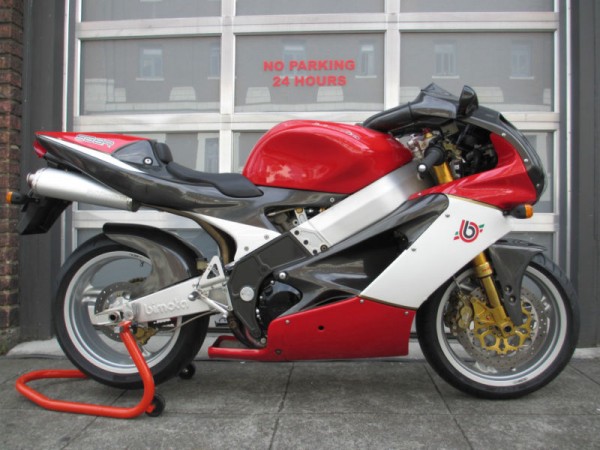 I know, I know. It's another Bimota and we post ALOT of these. We post so many SB8R's that Ian has dubbed them "the Honda Civic of Bimota's". But this one caught my eye in particular for two reasons:
– It has remarkably high miles for a Bimota, over 3k in fact! Joking aside, it is practically new, just broken in by most people's standards.
– It did sit for a bit before Red Label Moto acquired it, but has since had a lot of catch up maintenance and thoughtful OEM upgrades. It's a ready to ride bike, not a display queen.
Kia does a good job of describing what is for sale and I've included the listing text below. At $12k buy-it-now, it's about right where we've estimated solid SB8R's are worth in previous listings.
And for all the folks who whine about another Bimota being listed, there are ALOT of us out there who would love to have one in the stable. It's a freaking Bimota man!
dc
From the seller's listing:
This bike was purchased new from Ducati Bellevue on 3/2/2002. The 1st and only owner was a local Seattle aerospace engineer who rarely rode the bike. It was never ridden in the rain, never left outdoors overnight, never around a racetrack nor has it ever been tipped over and/or damaged in any way.

With one exception, the 1st owner made no modifications to this machine. His one mod was having a custom fuel trimmer or potentiometer made to work with the existing wiring harness. When my store acquired the bike from owner #1, it had not been ridden with any regularity for a few years and needed some attention. In the last couple weeks I have done the following:

~New Michelin Power Pure 2CT tires.

~New braided steel clutch and rear brake lines. Used but perfect condition braided steel front brake lines. Inexplicably, these bikes came with rubber hydraulic hoses.

~New EBC brake pads front and rear. The metallic versions in the front.

~New engine oil and filter.

~New spark plugs. NGK CR9EK.

~I sourced an out-of-production Evoluzione SB8R fuel trimmer from a Bimota enthusiast in Colorado. He had this and the official Bimota trimmer for sale. This unit is more precisely calibrated with nearly infinite settings between 0 and 999. The Bimota trimmer has 8 positions total. Also, this unit has a way-cool analog digital display that shows where your fuel mixture is set. And a more trick looking gold anodized mounting bracket. Yes I modded the ignition lock cylinder mounting spacers when I installed the trimmer so the steering lock still works. This trimmer is essential so the bike can run the way it was designed. Without it, the bike is so lean it is nearly unrideable. Also, one can now mod the exhaust and set the mixture to match. The custom trimmer from 10 years ago went in the round file.

~I was unhappy with the stock, quiet, restrictive, oe Arrow pipes. The only aftermarket option I could find was advertised as the last new Moto Corse full system remaining on Planet Earth for $7500. I took a pass. Instead, I had one of the best local fabricators I know take apart the stock system and "re-core" it. The result is outstanding in that it essentially replicates full racing pipes with much better performance and sound. The pipes did end up a couple inches shorter than stock, however they are much lighter after being modified. All in all a fantastic mod in my opinion.

~I modded the oe footpegs to replicate the footpegs as they would have been delivered on a European market SB8R. The bikes sold in the US were required to have folding footpegs, which, in my opinion, ruined the look of the otherwise exquisitely made oe foot controls. So I had them machined and carefully modded to delete the folding gizmos. Now they are solid pegs and look/perform just like the European versions.

~New Shorai lightweight lithium replacement battery. Trust me, the fact that this bike has a new battery of any type is a huge plus. If you doubt me you have never replaced the battery on an SB8R.

~New vacuum line that goes from the airbox to a vacuum switching valve.

~Cleaned/serviced air filter foam element.

~The stock headlight control (left-side switchgear) has an extra metal tab inside so you can't turn off the headlights. I took the switch apart and removed that bit of US Bureaucracy, so now the lights can be switched on and off.

This Bimota is ready to go in every way. With the fuel trimmer in place, it can be ridden around almost like a normal bike. I say "almost" since we are still talking about what is really a street legal racing machine. Even with the engine fueling the way it should, the thing is still a handful.

Includes both factory keys, leather Bimota key fob, owner's booklet, wiring diagram, display stand, stock footpeg folding thingies, toolkit, helmet lock (?) and the stock rubber hydraulic hoses if you want them.