At times when almost every motorcycle magazine features an article about the latest electric race bike project, talking about 2 strokes smokey and noisy motors makes me feel alive again 🙂
Here's quite a rare black and red color scheme of this beautiful v4 smoker found in Austria.
The bike is in fully original condition including the exhaust which features a small dent on the bottom right. Nothing serious and not worth a change as the seller describes:
The bike is both optical (up to a mini dent on right. Switch to lower the exhaust but would easily) in absolute visual and technical Oriinalzustand. The motor is running in original size, perfect. The bike has always taken to avoid damage while being logged on and change indicator. This year the following work was carried out on the bike: carburetor service, all new hoses or replaced, new battery, Power Valve is optimal renewed brakes / brake fluid, almost new tires, etc.

The bike is registered and can be visited at any time by agreement or trial hazards. A defect-free advice to § 57 5/2013 is naturally present. The motorcycle nothing more to be done, simply sign, sit ankicken, and enjoy the pure two-stroke feel.

(translated with Google translate)
With 44000km this glorious GP replica of the 80s is in really good shape. With its peaky power delivery (88hp at 9500 rpm) and unique sound, this bike won't disappoint you in terms of emotions. The RD 500 is on sale on eBay. It was re-posted after failing to find a buyer last week. It is now on the market with a starting price of 6999 Euro.
In 1984 it was presented at the Paris motor show (courtesy of http://www.rzrd500.com):
and accompanied by the following press article: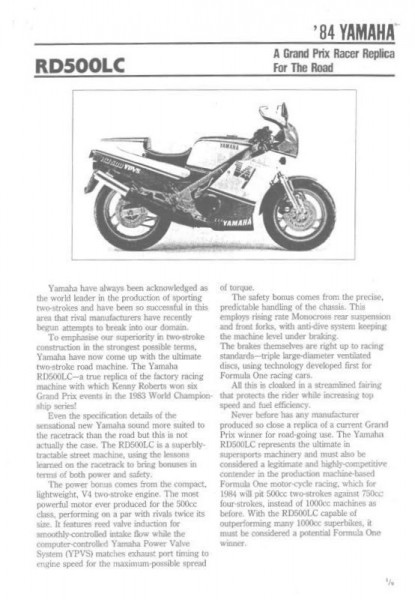 At that time it was on sale in Germany for about 12000 Deutschmarks (yes there was no Euro then…). The motor features a V4 configuration with 50 degrees angle between the two banks of cylinders. The YPVS logo on the side of the bike means the bike is fitted with a power valve (Yamaha Power Valve System) at the beginning of the exhausts to optimize the power delivery across the rpm range and in particular at the lower rpms where without the valve the bike wouldn't run as smoothly due to the non optimal back-pressure waves. Unlike the RZ500 which features an Aluminum frame, the RD uses a slightly heavier steep set up.
A friend of mine in Rome still owns one of these from new and even though half of the time he is replacing the pistons, and actually doesn't ride it much, he never wanted to part from it…Well I guess that's what a rare 2 stroke GP replica does to people…
Claudio