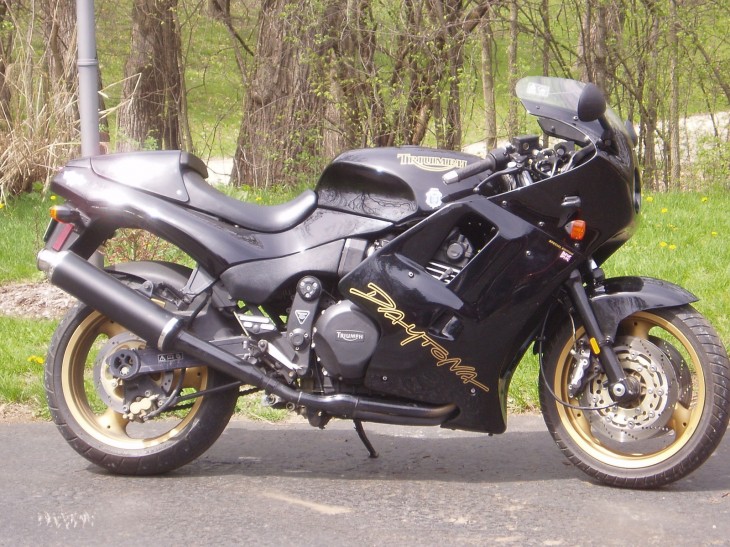 From guest author Marty:
Found this big beastie on eBay and sent it towards the RSBFS offices… and its even in the right color!
The "new" Triumph motorcycles don't grace the pages of RSBFS very often (last one was March 2013) but here is a very good looking 1200SE Daytona for sale on eBay.
For those readers who might be unfamiliar with the Big 1200SE, when Triumph re-launced in the states again the 90's, both 3 and 4 cylinder bikes were offered. Triumph eventually retired the big four cylinder engine to focus on the the 3 cylinder and parallel twins more closely associated with the history of Triumph. A bit of a shame because the big four cylinders were fun, fast and pretty much bulletproof. This was due to their twin balance shafts (which was unique at the time) mounted beneath the crank shaft. Road tests noted the smoothness of performance as positives and lack of "new bike" concerns as there were remarkably few early problems.
A review of the big 1200 can be read here: http://www.carolenash.com/insidebikes/bike-reviews/triumph/daytona-1200/
The 1999 Special Edition was a limited edition run of 250 motorcycles with the exclusive color combination of black body with gold graphics and gold wheels. It also was given 6-piston caliper brakes.
There isn't too much info on the eBay post but the but but it now is right in line with KBB retail. Also a decent YouTube video here, although its not the same bike it gives you idea of what these are like.
– Marty