1998 Yamaha YZF R1 for sale
Location: L.A., California
Mileage: 10,640
Price: active bidding or $7,000 B.I.N
Yes, 7k is all the cheese for this one, but it looks to be in great shape and well cared for.
The owner is selling it as "100% stock, well almost stock".
A full compliment of seats, including the front, rear, and solo cowl in both Black, and Red colors.

520 chain conversion, utilizing a Renthal hard anodized rear sprocket and lightened front sprocket, with a DID ERV3 X-Ring Chain.

Muzzy's aluminum radiator fan, for (surprisingly legit!) increased cooling and reliability.

I also installed a brand-new OEM oil pan when I purchased the bike, because I found a helli-coil used in the oil drain plug to cover up stripped threads. I replaced the entire pan, with gasket, etc., of course.

Exceedingly rare, almost entirely unknown, GYTR Ohlins side-mount steering damper. You can see in the pics. Due to concerns over head-shake from the constant wheelies and absurdly short wheelbase, Yamaha made a stop-gap steering damper mount, and factory cut faux-carbon fairing piece, to accommodate Ohlins dampers, within weeks of launch and before the full commercial after-market units became available.
When I saw this today I got all giddy inside and remembered days gone by when these were king the hill. I wanted one so bad I could taste it, but they were all sold out and I had cash burning a hole in my pocket so I opted for the ZX9R. I don't regret it, but I'm always on the prowl for one of these just in case my wife leaves the checkbook unguarded.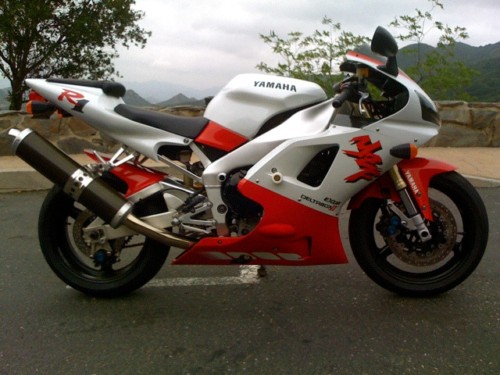 I don't think these have quite matured just yet, but there are plenty of guys like me who are looking for the one that got away. These were bad a** back in the day and for me they still look very modern and capable.
If you're like me and always searching for "The one that got away" and yours just happens to be a red and white YZF R1-
Cheers!
doug