Warning!
This post is in our archives. Links in this post have been updated to point to similar bikes available to bid on eBay.
Every post will be sent right to your inbox every morning when new posts are made. We will never sell our list or spam you. Plus you can click links to bid or buy right from the email and skip the site entirely. Subscribe to Rare SportBikes For Sale today!
(Queue the commissioned sales person)
Good morning- Can I interest you in some Carbon Fiber? Or, better yet- What's it gonna take to put you on this sexy AF Italian Big Bore today?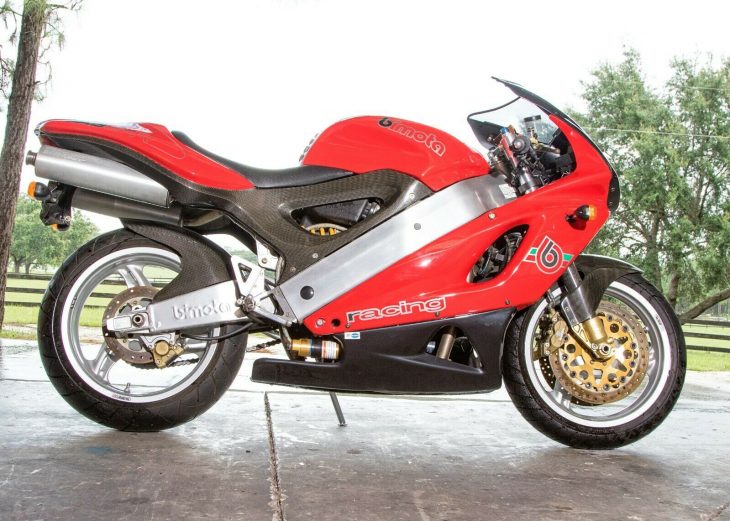 What's not to like?
-All original
-2400 very low miles
-1100cc's of Suzuki power
-156 horses
-74 lbft of torque
-Brembo's
-Original 24 year old tires
-Have I mentioned the obscene amount of carbon eye candy?
From the seller
This SB6R is not currently running. It could be made road worthy by performing the following service
New tires (Michelin Pilots ($500 installed)
Carburetor cleaning ($500)
Brake and Clutch Fluid flush ($150)
Coolant Flush ($100)
New Air Filter ($125)
New NGK Plug service ($150)
New Battery ($198)
I like how the seller has this one listed. They're offering it for the purist out there "as is" for $12,500 or they're offering it in "road ready" condition, with the above mentioned updates performed, for $14,500. I'm thinking if you went with the higher priced option, slapped on some Heli bars (are those still a thing?) and a tank bag, coupled with the 5.8 gallon fuel tank you'd have a pretty good day tripping machine. Not to mention, you'd get chatted up at every stop along your route because it's so freaking sexy.
As with most 24ish year old motorcycles they've been bumped and might have a few character marks and #12 is no exception. However, the seller has your back on this one and is offering his support if you wanted to make it blemish free before taking delivery.
The seller states
2 small cosmetic defects (see pictures). I have the red paint and the proper decal for the repair. I also have experience painting Bimotas.  (Check out the gallery photos for the other small blemish.)
And there you have it! You can order it as is or in pristine, road worthy condition. I think the SB6R has aged well and deserves to be ridden! What do you think? Ride it or keep it all original?
Many years ago my buddy Terry once told me "Would you save your girlfriend for the next person to use?" Obviously, my answer was "HELL NO!" and his simple reply was "Then ride the damn thing!"
The seller offers a lot more information about his machine and has his number listed for ease of communication so, make sure you make the jump in you're interested Check it out here.