Warning!
This post is in our archives. Links in this post have been updated to point to similar bikes available to bid on eBay.
Every post will be sent right to your inbox every morning when new posts are made. We will never sell our list or spam you. Plus you can click links to bid or buy right from the email and skip the site entirely. Subscribe to Rare SportBikes For Sale today!
1996 Suzuki RGV250SP For Sale
Location: Brentwood, CA
Mileage: 4,220
Price: $8,000.00 should buy it
Update 4.26.2011: Auction is back, but now with a buy-it-now of $9500. Link updated at the bottom. -dc
First and foremost I need to thank my brother Larry for the heads up on this machine. Usually he only sends me lies and falsities, but today he sent the good stuff. I will say it was not without some doubt. When I received the text I anxiously pushed the 'open' button and couldn't believe my eyes, but quickly realized who it was from. Brushing it off, but still secretly curious, I jump on the auction site and start key wording to find it. As I suspected, it wasn't there so I had another look at the text and was getting ready to swype 'another lie eh?' but, I noticed the seller has it listed in the ebay motors> parts & accessories category. It's a good thing I didn't out and out call my buddy a 'Liar!' because that would have warranted an apology on my part. If you know me you're well aware that those don't come easy from my stubborn as a Mule personality.
Okay enough with story time and on with the show-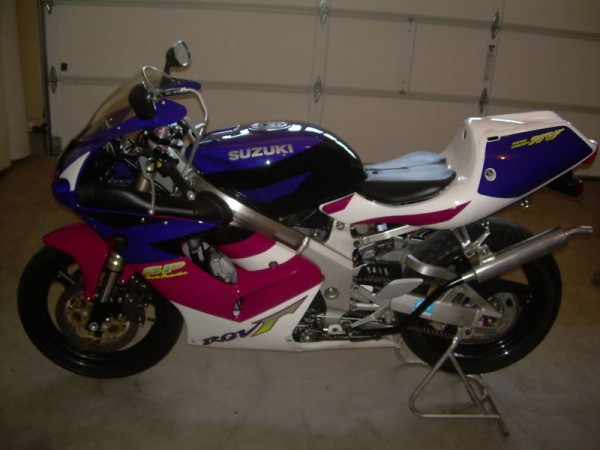 So, do you love it or hate? My first response was 'Cool, it has the 90's style graphics and that is totally hot!'. My other brother Larry's response was 'I don't care for the color scheme- it's too girlie looking…' Either way it looks super nice for a 96 model coming from Japan only 9 short months ago. Corrosion is a huge problem in Japan and when you're able to find a smoker without corrosion it's big deal to us here at the RSBFS.com HQ's.
You are looking at a 1996 Suzuki RGV250SP (Vj23A) that I brought over from Japan about 9 months ago. It only has 6800 original kilometers. I have fully de-restricted the bike with the OEM Suzuki 42E10 CDI along with the proper jetting, chambers and airbox mods. Bike runs strong and hard. Although the bike only has 6800 kilometers I did go to the expense of installing a brand new top end. The motor is as fresh as they come. The nice thing about this bike is that is is all original and it is VERY unusual to bring a bike over from Japan that is so absolutely free of corrosion. The owner must have kept the bike indoors all the time because all the fasteners are mint and original, look at the pictures. When I got the bike it had been lightly dropped on both sides. The left side was a bit worse so I replaced the left side mid panel with a nicer used panel and a rear left side exhaust hanger. The right side mid panel was lightly scuffed and originally it did not bother me but I did end up finding a clean un-rashed right side panel that will be included with the bike, it is currently over in Japan. All in all the bodywork is very good for an original set that is 15 years old. Underneath the skin though this bike is stellar. When I got the bike I could tell it had never been kept outdoors and when I went to give it a detail the bike became amazing. I spent a weeks worth of elbow grease and she looks like new. Only cosmetic issue is the left side brace on the swing arm has a crack from the bike being dropped and the silencer in turn hit the brace. Completely cosmetic and is behind the silencer. I do have the original set of chambers that came with the bike if you want to install them to have it completely stock. The chambers on the bike are the Sugaya street set. The bike is titled and plated in California (see the vin plate pic). Insurance is cheap because it is 250cc's. The picture of the needle/seats is the wrong ones that are in the bike now. They weeped fuel (btw the carbs are perfect internally, again no corrosion, rare). I replaced them but they are not correct. I have ordered another set directly from Japan so they will come with the bike as well. The tires on the bike are still the original units. I do have a brand new set of Bridgestones in the correct original size that will come with the bike as well.
Don't know what else to say. If you are looking for a super rare unmolested original condition RGV250SP then this bike is for you. Having owned 6 TZR's, 2 NSR's and 2 other Vj22 RGV's I can say with experience that this is THE 2 stroke repli-racer to own. It outperforms all the other makes in every category hands down. I have tons of pics so contact me if you are genuinely serious about winning this auction, and if you want to talk about the bike I would be glad to answer any questions.
Totally impressed with the amount of disclosure by the seller- Kudos!
These are said to weigh in at just a tic under 300# dry, have a claimed 62hp and if the ring-a-ding isn't enough noise for you it's an SP so you get the lovely dry clutch rattle.
New tires, new float needles, a tremendous detail job, no corrosion and let's not forget the special piece of paper- Chaching!
I'm guessing at $8,000 this one will sell before the auction ends so don't delay. Update a few hours later: Looks like it's probably gone already! -dc
to scoop this one up.
Cheers!
doug