The TZR250 SPR was the culmination of all things before it. The SPR's have braced black frames, triple 32mm power valves (to skirt the regulations of the day) that consisted of both guillotine and cotton reel designs. The beauty of this design was even though Yamaha downsized the the valves from 36mm to 32mm they were still able to keep the horsepower at 40. That's not a lot of HP by today's 4 strokes power output, but it was plenty for Yamaha to eventually win the Suzuka 4 hour endurance race with the SPR.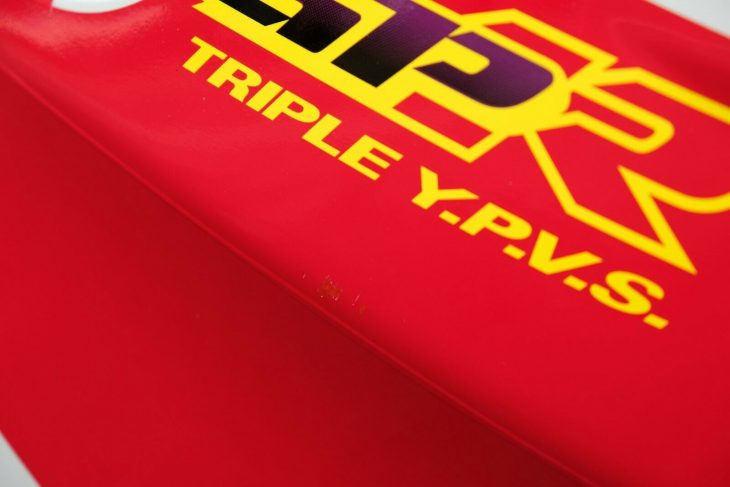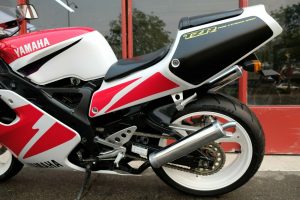 Here's what the eBay listing has to say.
Absolutely fantastic example of the last of the 2stroke 250cc Yamaha super sport bikes! Incredibly rare bike that was never sold in the US market during production. Powered by the proven single-axis crank 90-degree V-twin engine that adopted "Triple YPVS" for finely tuned exhaust control, a new type of carburetor (during the 90's) and a cassette-type wide-ratio transmission. This bike has been on display in a high-end collection for about a year and a half and is ready for a new owner. The bike has recently been started and run for the first time since it was imported

Here are some key features of this bike:

-Fantastic visual condition for a bike that is nearly 30 years old
-Starts easily, and runs great
-Clean PA title! Very rare for this bike to have a US title.
-Fuel tank is spotless
-All lights and horn work properly
-New battery
-Temp gauge or sensor may need to be addressed as the needle did not move during my test ride.
-Only 9513 KM = 5911 Miles
-Tons of tread left on the Rosso II tires
-Minor scuffs on each fairing, small paint repair on edge of front fender and one paint blemish on frame near swingarm pivot
I don't disagree with the sellers evaluation and description of their machine. I would like to point out that all of my research, friends and GoDuckYou translator tells me SPR's weren't produced until 1995. Not that it matters, because it really is a non-issue since SPR's were never brought stateside. I am very pleased to see it's titled and ready to roll, but should you pull the trigger on this one I recommend you tread lightly! Parts for these are scarce to non-existent.
I also wanted to mention that I think it's worth every penny of the asking price because these are rare as rocking horse poop and this example is finer than frogs hair.
Check out Pure2StrokeSpirit.net for all things TZR
Cheers!
dd