Gary in Utah is back with another stunner in this 93 900RR with just over 10k miles. His ad states it's a reverse import as it is a U.S. spec bike that was imported to Japan and now back in Utah. As with most of the bikes he has sold from his collection, this one shows very well.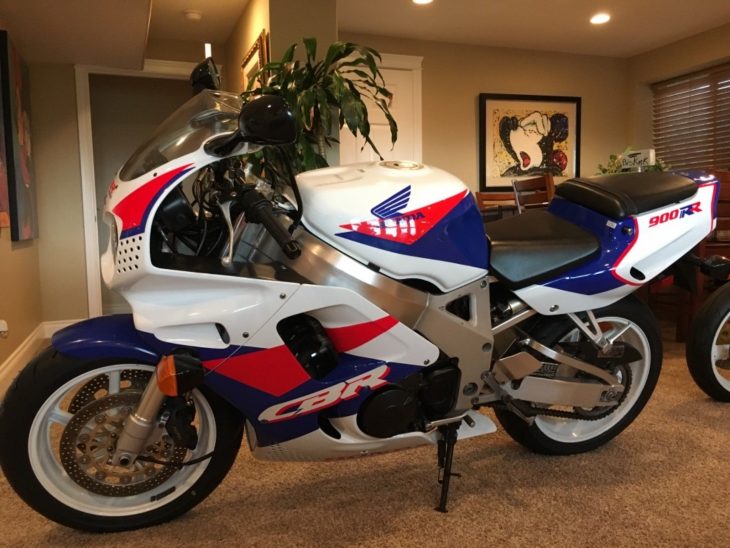 Back in 1993, the 750cc class was king of the sales chart and Yamaha, Kawasaki, Suzuki all battled it out on the streets and in dealerships to have the best 750cc bike. Meanwhile Honda seemed content to play more in the sport touring segment with its excellent VFR750. But what almost no one outside Honda knew was that Honda was developing a bike that would scramble all the segments and eventually cause most manufacturers to exit the 750cc segment. That bike was the the Honda CBR900RR/"Fireblade".
Formally launched in late in 1992 and appearing in dealerships in 1993, the new 900cc Honda was simply astonishing; sized like a 750cc, powered like a 1000cc, and only a few pounds heavier than a 600cc. (Note: the CBR900RR was 75 pounds lighter than the Yamaha FZR1000, 114 pounds lighter than the Suzuki GSX-R1100 and an astonishing 144 pounds lighter than the Kawasaki ZX-11).
from the seller:
Up for auction is a gorgeous 1993 Honda CBR900RR with only 16,962 kilometers (10,540 miles). Bike is almost in mint condition except for a few scratches in the red decal on the left side gas tank and a few handling marks, However, this CBR is ultra clean. No dents in the tank, no cracks in the plastic, no scratches in the muffler, no scratches on the engine covers, no rips in the seats and no rust. Bike has been very well cared for. I imported this bike last year from Japan. It is a reverse import. (U.S. spec bike that was imported to Japan). All fairings are 100% OEM factory Honda. The white color in the lower fairings have been professionally re-sprayed. The lower and mid fairings along with the fuel tank have been professionally re-cleared to bring out the glossy color and bring back the new appearance. Bike has new OEM mirrors and new OEM turn signals to give the bike that new showroom look. (Original mirrors and turn signals come with the sale). Also installed, new OEM grips and bar ends. Also included with the sale is a Vance & Hines SS2R slip on muffler. The bike looks like a million bucks and is correct right down to every nut and bolt. Bike runs like new. Just serviced with new fluids, new fuel filter, new battery and new Bridgestone Battlax tires. Comes with Utah state title.