Update 5.4.2011: This bike is back a year and a half later, but now on eBay. Links updated. -dc
Looks as if it will be a Ducati kind of week for me as I have several to post for your viewing pleasure.
1993 Ducati 900 Superlight located on the Raleigh- 🙂 Durham 🙂 Craigslist. This one, unlike the other one I posted, has been enjoyed and has several tasteful upgrades. Termi's, Corbin Saddle, and some engine work are a few of the highlighted upgrades. Owner says it has 17,000 miles and was part of his dads collection at one time or another.
It's a small picture, but you can to contact the seller for a larger, more detailed one if you're interested.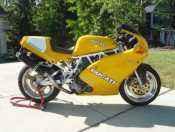 With an asking price of $9,500 this one seems to be more in line with 900 Superlight posts of the past.
Bike stats:
Rare 900SL "Superlight" only 300 1993 brought into the USA this is #827 of 1000 manufactured in 1993. , This was part of my Dads bike collection in So Cal. This bike has never been raced or laid-down. Looks good as new. 17K miles. More Photo's upon request

$9,500.00 OBO
Termignoni exhaust(sounds killer)
Lidless air box mod
Original Marvic-Akront mag/alloy 2 piece wheels.
Pro-Italia billet rear sets (up 1″ and back 1″
All original carbon fiber perfect (fenders, gauge cover, pipes)
11.2:1 JE/Pro-Italia pistons
Keihin 39mm FCR race carbs
Pro-Italia brake/clutch lines
Ohlins fully adjustable Rear shock
Ohlins steering damper
DiD ERVX gold chain/AFAM alloy 37 tooth rear sprocket
K&N
Corbin seat
Adjustable forks
Ducati Kamna alloy exhaust rings
Brembno brakes
SS Brake and clutch lines

Also included:
Full stock exhaust
Stock Mirrors
Stock Rear turn signals
Stock pistons
Stock rearsets
Stock 39 tooth rear sprocket
Stock gearing
Stock carbs
Stock airbox lid
Original Ducati tool kit and Owners Manual
Consider all of the up-grades Ducati put on the SL's to make them special and then the ones this owner added and it sounds like a great bike. With 17k on the clock it's definitely not a garage queen and would make a great weekend warrior.
Cheers!
dd