Richmond, VA – 4,263m – Currently $3,500 No Reserve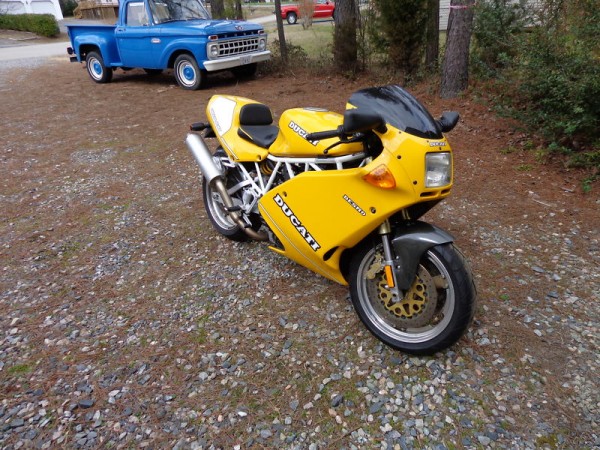 I have said it before, and I will say it again; seeing a yellow Ducati with a white frame is like an ice cold beer on a hot day. Refreshing. Ducati has a knack for releasing limited edition bikes, and the Superlight is one of the coolest. The SL's featured more carbon fiber bits, and Marvic aluminum/magnesium wheels to help bring the bikes weight down. They were also one of the first Ducati's to be given the numbered plaque on the triple clamp.
This SS/SL is number 802 of the bunch and has some interesting qualities about it. First of all, bar risers are now installed, however the original clip-ons come with the sale. The same goes for the up-toothed rear sprocket (original included). Also the swingarm had cracked at the pivot point, but has since been repaired. Corbin seat looks good and keeps it comfy.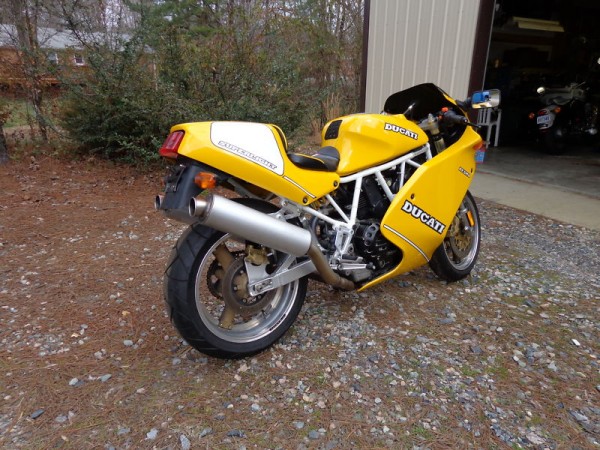 From the seller:
I am the second owner. I purchased the bike from the original owner in Vermont. Bike was purchased in 2003 with 3,049 miles. It now has 4,263 original miles. The tires were installed in 2003. The bike has a Corbin seat that was on it when I purchased it. The bike has heli bar risers and I have the original clip-ons. Rear sprocket is 39 teeth; I have the original 37 sprocket. It has the stock mufflers. The carburetors have a Factory Pro jet kit installed and I have the dyno readout. The swing arm cracked at the pivot shaft and has been repaired. Bike came with the 1992 two piece Marvic wheels. No frame cracks at steering head or anywhere else. All numbers match. No reserve, title is clear. I can take additional specific pictures if interested. Buyer will have to arrange shipping.
We have seen these go for the $6-$7k+ range given the condition and miles. The nice thing about this bike is that it is mostly stock and/or can be returned so fairly easily. The Marvic's are still present and the exhaust is stock. This auction has No Reserve, so it's going to sell. I will be keeping an eye on this one for sure. Jump on over to the auction here! 
-JS