Do a quick search for previously listed Ducati 900SS/SL's (Superlight) on this website and you'd swear they're more common than SP's! We've seen quite a few listed in the last 18 months but here's another beauty. This one isn't concours quality and has some miles on it at nearly 32k, but the seller is honest about the condition and has pictures to show what you're dealing with. For $5500 buy-it-now, it's right in the realm of a good quality SP or FE, but with the added cache of being a Superlight.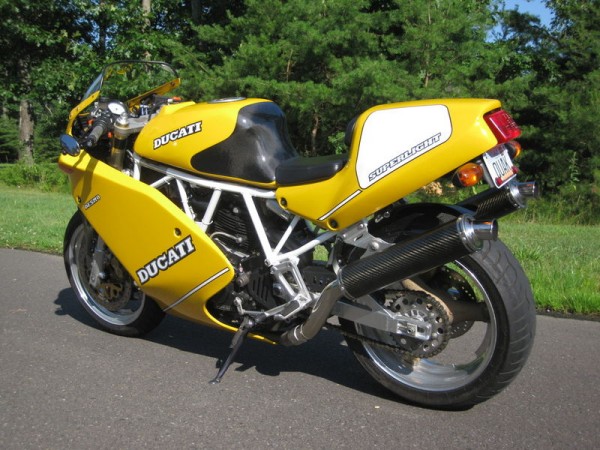 1993 Ducati 900SL #916 on eBay
The cliff notes on the Superlight include: high swept pipes, thinner frame tubes, lightweight and exotic Marvic rims, and the solo seat with numberplate. This one has lots of upgrades and maintenance history. From the seller's listing:
1993 Ducati 900SL Superlight, s/n 916. This is the second Superlight that I have had the privilege to own; time for this bike to be enjoyed by another enthusiast. I purchased this bike in December 2009 from its third owner in Phoenix, Arizona. The bike was given a good cleaning (any reason to camp out in the garage for a few days with the new machine, cleaning out accumulated dirt on the lower triple clamps with a Q-Tip and replacing all of the zip ties with new white pieces….), and then taken to Renaissance Motorcycles (Tucson, AZ) in January 2010 for Belt Replacement, Valve Adjustment, and a good look-over. The bike moved with me from Arizona to New Jersey where I quickly discovered there were not as many twisty mountain roads as in Arizona, go figure. The bike lived in my office in NJ for the past year. This bike has been ridden and enjoyed since 1993. The motorcycle looks excellent but is not what you are looking for if you require a machine in "concours" condition. I have included pictures of the small defects in the paintwork that have occurred over the miles and years. As you can see from the photos, this is a very clean motorcycle. It takes a close eye (and Macro Setting on my camera) to illustrate the signs of use and age.

While I owned this motorcycle, I replaced the front and rear c/f fenders with new Ducati units (originals were looking tired), installed c/f belt covers, added a c/f tank "bra" from Geelong Carbon Craft of Australia, and installed some nice bar end mirrors (not seen in all of the pictures, the original mirrors were droopy). Other goodies installed on the bike include: Termignoni C/F High Mount silencers, Fren Tubo brake and clutch lines (not certain if these are stainless steel or kevlar), and K&N air filter. Battery was replaced in July with a new unit. Tires are Pirelli Diablo Strada and are in good condition.

The engine on this bike runs very strong. I have owned many Supersports over the years and was very pleased when I rode this machine. While I have done nothing to the power plant other than changed the oil and have the belts replaced and valves adjusted (600 miles ago), I have many receipts (going all the way back to the original Bill of Sale) that show the purchase of and installation of high compression pistons, Barnett Clutch, and Nichols Clutch Basket. I cannot confirm these are in the bike, but I can tell you she is a strong runner.

The Marvic wheels are in excellent condition. No signs of the bolts between the spokes and the rim ever being loose or elongating. Full floater Brembo disks rattle nicely when backing up. Not certain if the seat pad is original or not but it is in good condition and looks right.

This is a very nice example of the Superlight. I bought it because it was not so perfect that I would feel guilty riding it; even so, when on display in my office, many people were amazed by its condition that it was a bike built in 1993. If you are looking for a Superlight, this is a great opportunity to put one in your garage for less than a premium price (and actually ride it vs. dust it).
While this on has a tiny bit of patina, it looks pretty well presented for the asking price. Not to mention you wouldn't be afraid to ride it as such!
dc