1992 Suzuki RGV250 Lucky Strike?  Don't Be Late For Class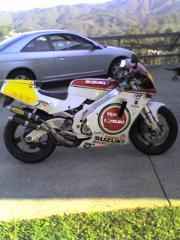 I know anyone who is shopping for a RGV250 or a Lucky Strike RGV250 is cringing right now.  Sellers:  buyers need photos and lots of them, especially when you are dealing with a model like  a Lucky Strike RGV250.  This may be the most copied paint scheme on the planet.  It is extremely difficult to find the real thing nowadays.  Even more rare is finding one that has not been modified.  I normally wouldn't post a bike with so few pictures but I thought it was a good opportunity to talk about what to look for if you might be looking for a Lucky Strike RGV250.  RGV's are the one area I can claim some decent knowledge so let's do a little Lucky Strike RGV Class 101.
To be honest it is difficult to even find a photo of a stock Lucky Strike RGV250 on the net.  This Youtube post is the best example I've seen in a while.  Not stock are the solo tail cover (ultra rare and a great find if you come across one), the Arrow exhaust and the Motul, Michelin and NGK stickers and the Schwantz signature.  Excluding those items it is a great example of what a home market Lucky Strike RGv250 should look like.  When I say "home market", I'm referring to Japan.  There were a certain number of resprays done in England by the Suzuki importer there.  I guess I'm a snob, I don't consider those true LS RGV250's.  A Japanese spec Lucky Strike will be restricted to 45hp, as well, since they were home market bikes.  Lucky Stirkes are not SP models.  They will have the less adjustable suspension and no remote reservoir for the rear shock.  The Lucky Strike edition was simply a paint scheme.  If want that cool dry clutch you have to stick with an SP.

Here is the info from the ad:
1992 suzuki rgv 250
factory kevin schwantz with registration
super sweet light and nimble
this bike screams
if your reading this you already know
im looking for best offers
this bike is rare
xtra rebuilds/ rims/parts and pipes and factory manuel
make me a serious offer and i will write back
bike has been well kept and always garaged
 The photo is so poor, it is hard to judge the bike.  What I notice right away is it almost looks like the stickers say "Team Suzuki" instead of "Lucky Strike".  Suzuki ran those stickers in in the GP's in countries where you could not advertise tobacco.  Obviously, if the stickers do say that, this is not an original LS.  The wheels are also the wrong color for an original LS.  I will hedge my bets though, if the stickers are correct (some have been added though) and for some reason the wheels were painted or changed it could be an original LS.  Then again I'm noticing three louvers on the tail section.  Three louvers are a sign of 1991 model.  1992 onwards have two louvers.  See how it turns into detective work?  Now, would I totally dismiss this bike?  If I was a collector, yes.  If I'm just looking for a nice RGV I'd at least make a call.  In my opinion that title is worth more than whatever paint is on the bike.  Like I said the LS RGV's were just normal RGV's excluding the paint.  You could even argue they are less appealing because they are  restricted in stock form.  With some planning and some $$$ you can get a nice Lucky Strike spray done yourself.  If you'd like to know more about this particular bike you can find out more here.
——————————————————————————————-
Some review material for Lucky Strike RGV Class 101
A few nice pictures of 1992 VJ22 LS.  Solo tail, end cans and a few small stickers are not factory original.  As I mentioned above the solo tail cover was a factory made item and is uber rare.
 I honestly don't remember is these were produced in 1991 and 1992 or just 1992.  A real one must have the banana swing arm that wasn't produced after 1992 (Honda sued them over a patent infringement).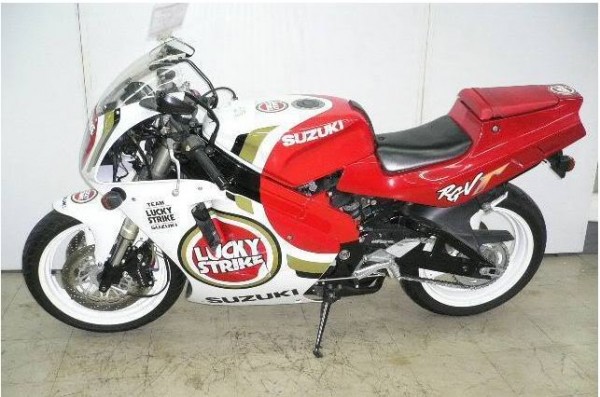 If you ever see one that looks like this snatch it up as fast as you can.  I believe only about 500 were produced in 1994 for the Japanese market.  Still a VJ22 but with the updated Lucky Strike paint work.  
1996 VJ23 Lucky Strike.  It was produced in both the restricted "T" model and the derestricted "V" model.  If you think about it, as rare as these are, we've seen a lot more of these VJ23 LS's lately than the older VJ22 LS's.  Which would you rather own? I know, I know….both.
IK