1986 Suzuki GSX-R 750 for sale by the original owner-BAM!
Make: Suzuki GSX-R 750
Mileage: 12,309 Miles
Price: $1,725 current auction price
Location: Palo Alto, CA
Rare Sport Bike For Sale by the original owner and it only has 12,309 miles. Although not in it's original trim the owner states that he does have all of the original parts. This one looks to be in amazing condition.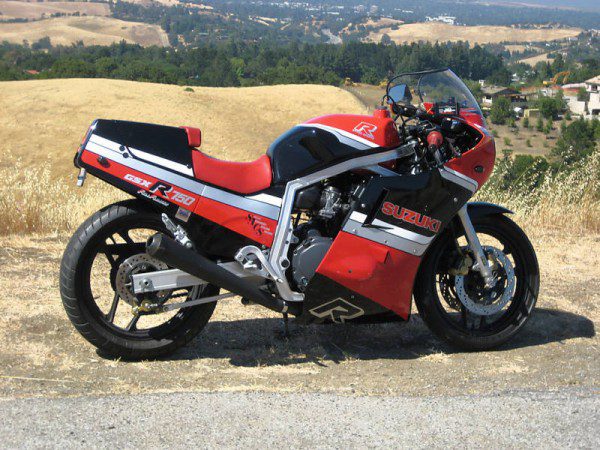 As you can see by the picture it has been well cared for and has only averaged about 500 miles per year. Like today's sport bikes these early Gixxers weren't only used on the track. No, they also served as sport tourers as proven in this next photo.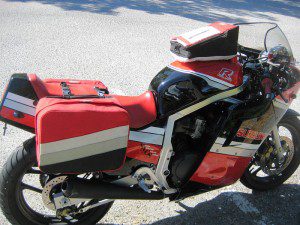 Pretty spiffy huh? Ah yes, there is no quicker way to remove a "Manly Mans" machoness other than to put saddle bags on his beloved sport bike. As with most luggage it is made "quick release" for ease of removal. Seeing this bike does take me back to days gone by; as I'm sure it will with the person who buys it. I do have one question: Is it just me or are those bags look as if they're on backwards?
For sale is my personal 1986 Suzuki GSX-R750, an unusual survivor and the lightest Gixxer 750 ever made (388 pounds dry). This bike has only 12,309 miles or 500 miles a year! Why buy one of these that a kid has beat? Instead, buy one that is already almost in showroom condition. These bikes were literally race bikes with lighting kits tacked on. This bike needs nothing as I would not hesitate to drive it across country right now. I am the original owner as I bought brand new off of Grand Prix Suzuki's showroom in Santa Clara back in 1986.
The seller has a lot more to say over at the auction and has posted several very nice pictures for your review. He also included a great video that is sure to please any interested buyers.
Cheers!
dd