Location: San Diego, CA
Miles: 28,862mi (46,179Km)
Price: $6,000 BIN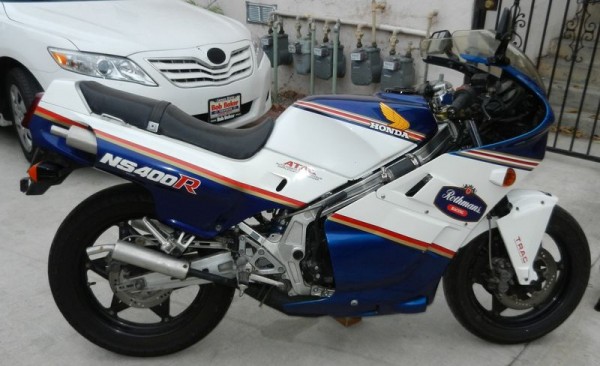 Are you a big Freddie Spencer fan? If so, this might be your opportunity to ride like Fast Freddie, or at least look like you can. Spencer brought GP titles to Honda with the NS500 and NSR500 and apparently was fast enough to win the 500cc and 250cc championship in 1985. To commemorate Freddie's successes on the track, Honda released the V3 NS400R in famous
Rothman's livery. Praised for its easiness to ride and handling prowess do to its short wheel-base, the NS400R is a sure fire way to carve up your favorite roads.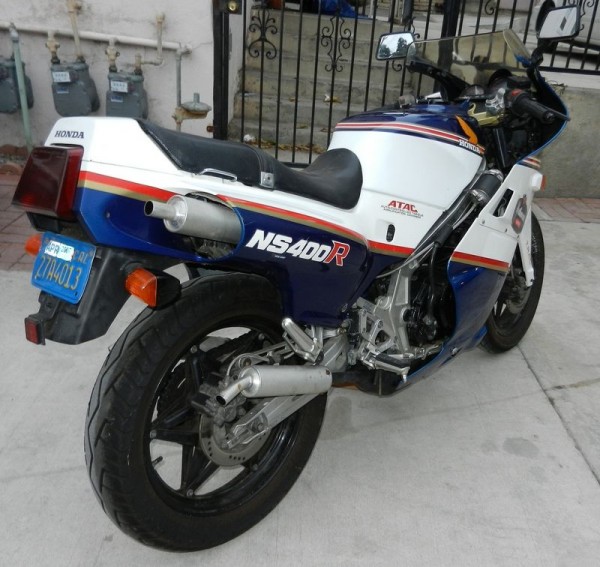 The particular NS400R up for auction here looks to be in very good condition for a 25 year-old bike. It has clocked about 29k miles, but doesn't show signs of an abusive ownership. The seller does a good job of documenting some small scratches with photos as well. I do however notice that the "Rothmans Honda" decals on the lower fairing are non-existant. I would be curious to know why. Though, I have noticed some variation on Rothmans reps that lack certain logos.
From the seller:
1986 Honda NSR 400 , 3 cylinder, 2 stroke. Looks good, some scratches, strong runner. Orig Paint.  Milage converted from Km reading on speedo. Minor scratches on bike as shown in pictures. Still, pretty good shape for a 25 year old unrestored sport bike. Cali title in hand. Reg Expired 2007, but is on PNO , so no penalties.  Larger pictures can be e-mailed, direct if closer look for blemishes is desired. Bike always stored indoors , and run every couple of months to keep healthy. Have very large bike collection being thinned down to make more space. See pictures. Numerous pictures to show the good and the bad of it. Overall, a pretty well preserved bike. Videos on You Tube. 59 year old owner, former bike wrench and former shop owner. Every effort has been made to show condition of bike with pictures and video. Can e-mail better, larger pictures directly , on request. Bike in exc cond, though no warranty expressed or implied. Sold AS – IS.
There you have it. A good condition Honda NS400R for sale right here in the U.S. I don't see any major flaws in the bike and the seller appears to be up front with the overall condition of the bike. The price is definitely right in the range of a bike in this condition as I have seen lower mileage examples in the $9k range. You can make it yours today buy taking a look at the auction here!
-JS