Editor note: Today we're introducing our latest contributor, Mike, who has put together this post on this great looking RZ500. Please join me in welcoming him to RSBFS by leaving a comment and saying hello. Welcome aboard Mike! -dc
Here's something you don't see every day – a 1985 RZ 500. Built by Yamaha to capitalize on their Grand Prix success with the YZR500, the 2-stroke RZ featured a 50-degree, twin-crankshaft V4 engine layout with YPVS exhaust power valves. Back in the day, it was the closest you could get to a race bike for the street. This example has less than 10,000 miles on the clock.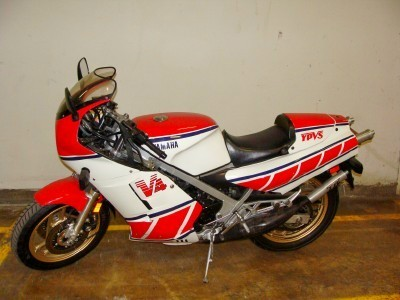 From the seller:
Very nice RZ 500. I bought this bike from a Yamaha mechanic and it runs great. It has new Michelin tires and toomey pipes. Bike has 16,000 KM. There is a small dent in the front left of the tank where the handle bar may have hit? Broken left foot forces sale. Not many of these bike out there. This is a Canadian model.
There is no indication if this bike has the coveted California title, and the photos leave something to be desired. Still, given the performance and top shelf bits of the era – and the fact that they were never imported to the US – it might be worth a look. Here is a link full of good info on these rare bikes.
check out the bidding!
MI