Location: Boyne City,Michigan
Miles: 574
Price: $24,000 BIN
To celebrate Mike "The Bike" Hailwood's legendary comeback, after a an 11-year hiatus from racing to win the Isle of Man TT, Ducati released the MHR900. Several years later, Ducati beefed things up a bit with the bored and stroked MHR1000 (973cc), which provided copious amounts of torque and low-end grunt. Up for grabs here we have an excellent example of one of the MHR's from the same seller who has been selling off his collection over the past few months. I can only assume this is the 1000MHR version due to the (later) model year, though I wasn't able to find a 13-digit Ducati VIN decoder. (VIN isted in the eBay ad).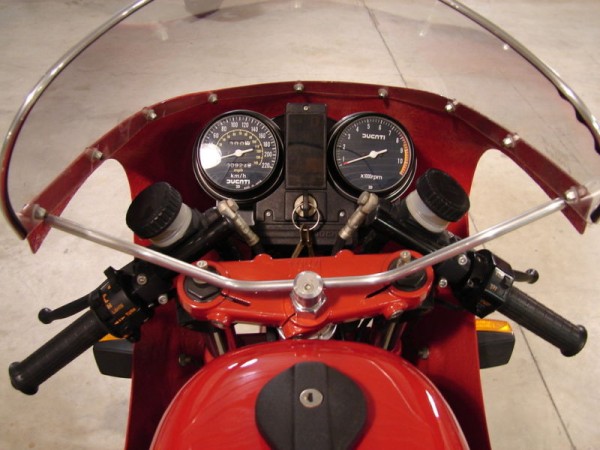 The bike in question here looks to be a pristine example with only 574 miles (924Kms) on the clock and no modifications other than the 2-into-1 exhaust and the bellmouths on the carburetors. Also, the seller states that this specifc bike was photographed and featured in Ian Falloon's book Original Ducati Sport and Super Sport. Pretty cool if you ask me.
From the seller:
Up for auction is a 1985 Ducati Hailwood Replica Mille. This is a very clean motorcycle that I am selling for my Dad who is selling his collection. He is the second owner of this one and it has 924 Kilometers (574 Miles) on the odometer.

This is the exact bike pictured on page 121 in Ian Falloons book titled "Original Ducati Sport & Super Sport". The condition is fantastic and does come with a free and clear title.

Please take a look at the large pictures to get a better idea of condition and email me if you have any questions.

** Visit this link to see higher resolution pictures and extra pictures http://imageevent.com/joejo20/hailwoodreplicamille
**
We have only seen a handful (or less) of these show up on RSBFS, so it's hard to tell what the selling point is for this particular bike. I will say however that this one might be as clean and low of miles as they come on the open market. I think the $24,000 BIN price is probably on the upper range of where it will go for. But, if you're a Ducati collector or a collector of motorcycle racing history, then this bike might be right up you alley. Even if you just have to have it, then jump over to the auction here and make it yours!
-JS