Warning!
This post is in our archives. Links in this post have been updated to point to similar bikes available to bid on eBay.

Kutztown, PA – Currently $7,500 with No Reserve
In the world of RSBFS, we see all kinds of bike for sale, from homologated superbikes to grey market imports. What we don't see too often is one-off custom bikes, especially ones that might be considered a Franken-bike. Normally I would shy away from a bike fitting that description, but this bike is different. Clearly the builder of this one had a vision and took the time to build that vision into something above and beyond.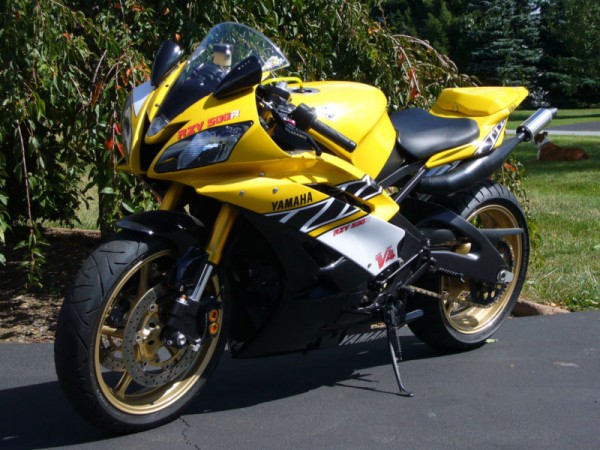 Do you want RZ500 two-stroke awesomeness with modern R6 technology? Then look no further! Clearly the owner has spent some time on this build and it shows. I really can't elaborate more on the build, so I will let the seller's description do the talking:
Up for auction is my custom built legal 2 stroke sportbike. It is a marriage of the old school RZ500 and the high tech R6R Hybrid designed to provide modern handling and braking with the explosive power of the RZ500 engine.

I spent more than a year designing and constructing this motorcycle.

I am an automotive engineer and have been building (and rebuilding) street 2 strokes for more than 15 years. All work and modifications to this motorcycle have been performed by me. I built this so overall design and quality appear to be a factory OEM production bike. I have only ridden the bike enough to debug and fine tune jetting and ignition maps, approximately 50 – 100 miles.

It has spent the last several years living in my family room as a conversation piece. It is currently registered and includes PA T**le.

This is truly a one of a kind motorcycle that will attract attention and conversation wherever it goes. Below is a comprehensive list of features and modifications.

I have included many photos and a video showing all aspects of the motorcycle, please review them all, I'm sure you will not be disappointed.

Engine

Fully rebuilt with new (OEM Yamaha) seals, gaskets, and bearings
.5mm Over Bore
New Wiseco Pistons, rings, pins
New Carbon Tech reeds
New Mikuni TM28 Flat Slide carbs
New K&N Air Filters
New ZeelTronics Programable CDI and Power Valve Controller
StockPorts and heads
New Jim Lomas GP Style Expansion Chambers and Polished Silencers
Set up with functional Auto Lube

Frame

Modified 1984 RZ500 Frame
Custom built rear sub-frame
2009 R6R upper fairing bracket
2009 R6R Radiator
Oil tank under seat cowl and battery under upper fairing
PA TITLE!!

Suspension

2009 R6R Aluminum Swingarm
2009 R6R Upside Down Front End
RZ500 Rear Shock
2009 R6R Front and Rear Wheels
2009 R6R Radial Front and Rear Brakes
New gold X-oring chain and sprockets

Body

Stock RZ500 fuel tank modified with flush filler cap
2009 R6R front and upper fairing
209 R6R Tail section and seat
Koso digital instrument panel
Yamaha 50th Anniversary Graphics
Show quality PPG base and clearcoat paint – OEM 50th Anniversary "Reddish-Yellow Cocktail"

I am a pretty much perfectionist and would say this bike is perfect in every way. I have it jetted and ignition/PV maps for my riding style, but you may want to alter these based on individual preferences. There are a couple bubbles in the paint around the fuel fill, they are small and I tried to show them in the photos. I noticed the battery seemed a little weak today, but it just maybe that it hasn't been ridden in many months.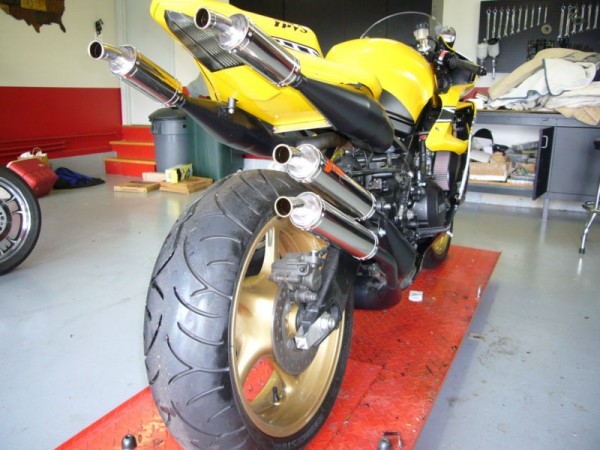 Here's a video of the bike as well
Bidding is already active and up to $7,500 and the reserve is gone. The bike is registered and comes with a PA title, which is always a plus for two-strokes. It's hard to say where the price will or should go since I have nothing to compare the bike to. However, I can guess that this thing is a blast to ride and you won't see anything else like it on the road. You can check out the full auction here and place your bid today.
-JS