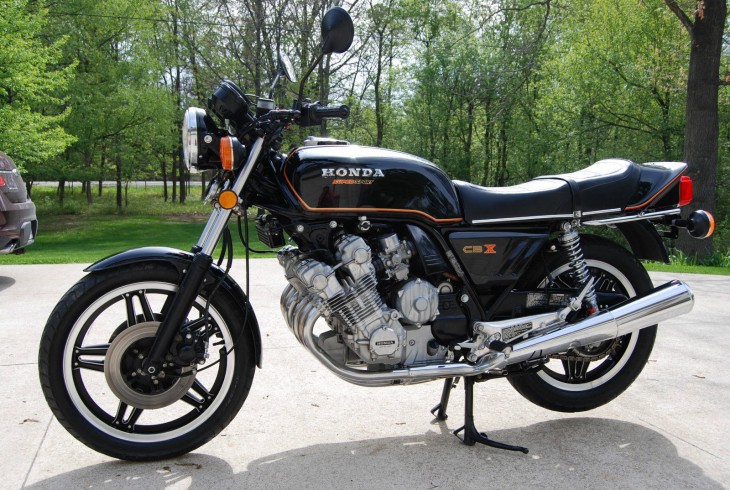 Nope that's not a misprint: It is another 4,400 mile original a day after posting an RZ500 with 4,400 miles! No connection between the sellers, but these bikes do share the same fresh from the collection condition. This CBX will likely need tires replaced before any spirited riding is done but otherwise sounds like it's ready to go with very few issues to disclose. One final comparison to yesterday's post is that this one is half the cost (as of current bid) as well, and the reserve is off.
dc
from the seller:
I purchased this bike in 2002 from Chuck Ewing of Whitehouse, Ohio. Those of you that have been into CBX's for a while, probably know Chuck as the primary source for exceptional CBX bikes and parts prior to Tim's becoming the place for these things…The bike was as new in 2002. I rode it only to a few vintage bike events per year in Michigan, hence the very low miles. The bike runs like a clock. A little cold blooded upon start up but that is part of the deal when owning one of these bikes!

Since buying this bike, I have added a complete NOS sport kit. The tank had a flaw in the factory pinstripe so I was able to source a replacement NOS tank a few years ago. ($2,500 for these two items) The paint on every part of this bike is flawless and as new.

This CBX has never been exposed to the elements. It has always been stored in my climate controlled storage. There is no corrosion on any nuts or bolts. The wheels are also in great condition.

The seat, grips, mirrors, electrical, etc, have no flaws. All as new. Please review the pictures closely. The pictures should confirm everything I claim in my description.

Full disclosure…

There is a broken tab on the backside of the LH plastic side cover. Common issue with these bikes. Cover will not fall off but it is loose.
The pipes have absolutely no rust (nowhere, not even in the collector area where these are prone to deteriorate) but there is a 2 – 3″ mild scratch on the top of the RH pipe. You need to get pretty close up to see it. Overall chrome is exceptional. No dings or dents.
The tires were replaced in 2002 and may be getting a little hard. I would replace if the bike were to be ridden much.
The alternator cover has developed a streak in the paint finish over the years. Not sure why. Tried to find a NOS replacement but every one I purchased was worse than the one on the bike. Could use a repaint on this item.

This is a very fine example of Honda history and would surely be a nice addition to any collection. Nice 1980 bikes are much more rare than the 79's. And you just cannot beat the black paint and wheels on this beauty.