I think I'll keep the vintage sportbike theme going this week with this restored 1969 Laverda American Eagle GT750 on Spokane Craigslist: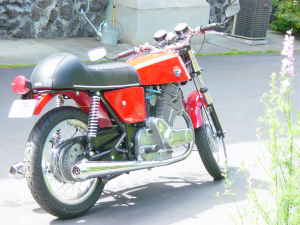 quote from Criagslist ad:
I restored this 1969 Laverda American Eagle 750 GT in 2005. It has a McCormack Motors tag on it with a VIN of 1322. This was a frame up restoration. The frame has been powder coated and the paint is fresh. The motor has been rebuilt with the assistance of the North American Laverda expert, Wolfgang Haerter. The tank, seat, silencers, front fender, and instruments are not original. The instruments are there primarily for cosmetics – the tach works and the speedo registers but is not to be trusted. The bike runs well and presents itself nicely. It has a clear Washington title. I'm asking $4,200
I am far from a market expert on any bikes, but I find I'm really behind with these vintage bikes. But this doesn't seem like a lot of money for what looks like a really fun vintage motorcycle! Help me out in the comments if you have perspective!
dc