124's Second Dance:  2003 Aprilia RSV1000R Mille Haga Replica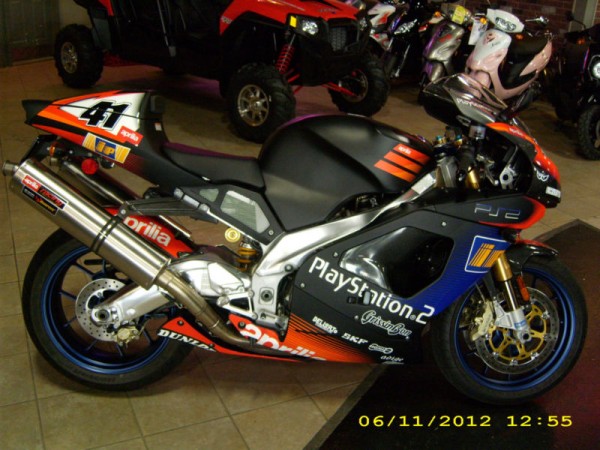 It's gained 2 miles, dropped $1,000 in price since its' last appearance here back in 2010.  This Haga Replica is still looking for a new home.  The darn thing is still basically brand new with 364 miles on it.  Mille's are a dime a dozen but now that I think about it, you really don't see the Haga or Edwards replicas come up for sale that often.
If you forgot what you got:
Top Distinction: only 300 units worldwide limited edition with only 60 slated for US delivery ensures top collectors value, and a phenomenal presentation to further stand out from the crowd.
Built on the class-leading RSV 1000 Mille R platform.
Fairing graphics faithfully duplicated from WSB- Spec RSV 1000 Mille SP Superbike – complete with Haga racing numbers
Blue anodized Ergal top triple tree with "Noriyuki Haga" inscribed signature + production identification serial number + inscription "SBK REPLICA RSV 1000 R"
Aprilia Engine Department developed dual-sided Akrapovic TITANIUM exhaust and stainless steel collectors+ EPROM specifically designed for this exhaust system
Building on the already class-leading performance of the Mille R, the Haga Replica sees a 10 hp increase at 6.500 rpm, and a flatter power curve, over 9.000 rpm with the installation of the competition-grade Akrapovic Exhaust system. Torque is greatly increased with torque curves reaching optimal values 1700 rpm earlier than the standard motor.
6.6 lb weight decrease with the Akrapovic Exhaust system installed (with respect to a standard RSV R) and more equal lateral balance (also thanks to the double and not single exhaust).
Top quality components from RSV 1000 R carry-over, including the Carbon body panel inserts and fenders, Brembo 4 pad calipers, Ohlins suspension and steering damper
Full rear subframe reduces cost to add optional Bi-Posto kit
The 2003 RSV 1000 Mille R Haga Replica: World Superbike technology and imagery, in a single value-packed performance package.
Time has really caught up with WSB and they've lost some real characters that added a lot of the color to the series.  Can you ever forget Haga sliding that Yamaha around the track?  Would that even happen now with all the electronics?
Damn, I'm a sucker for replicas. I'm a marketers dream.
You and Nori's office.  He only rode for Aprilia two years and only one of those was in WSB.  He has a pretty nice website with photos throughout the years.  The guy has had a lengthy career.  If you haven't kept track of him, he is currently riding for Swan Yamaha in BSB.
So why is it still for sale?  I can only assume it is because it is priced at collector type pricing ($15,500) and that has really shrunk the market for the bike.  It doesn't help that Aprilia released the RSV4  that is light years ahead in terms of technology.  If you are an Aprilia collector and have a Haga Replica on your list, now is your chance.
Ian